Molotow takes on New York: Graff Capzz Event in NYC
"Blick on Bond is going beyond the coupon with dynamic art competitions" Dick Blick sales manager Pata Ilano commented during the first Graff Capzz event held on Bond St. in NYC on the 15th. This was a Molotow sponsored graffiti hat competition, free to the public from12-8pm with DJ @jacylamarcampbell, Spray paint artist zropro, and product demos by Boundless Brooklyn.
The first 80 artists to design a hat using Molotow Urban Fine Art Spray or their Acrylic Paint markers were entered into the competition with 42 hats going within the first two hours. The hats will remain up until October 30th. Prizes include store cards and a Molotow prize pack. Anyone who walks through the doors at Dick Blick on Bond St. can cast their votes so if you're in the area stop on by!
Catch a detailed overview of this event here!
Follow Molotow North America on Instagram or check them out on Facebook!
Spray paint artist @zropro showing off Molotow Urban Fine Art Spray paint that he used at Saturday's event in NYC. His work has been on display in galleries in NYC and is currently up at Dick Blick on Bond St. He has been using Molotow products for years for their high quality and level of coverage.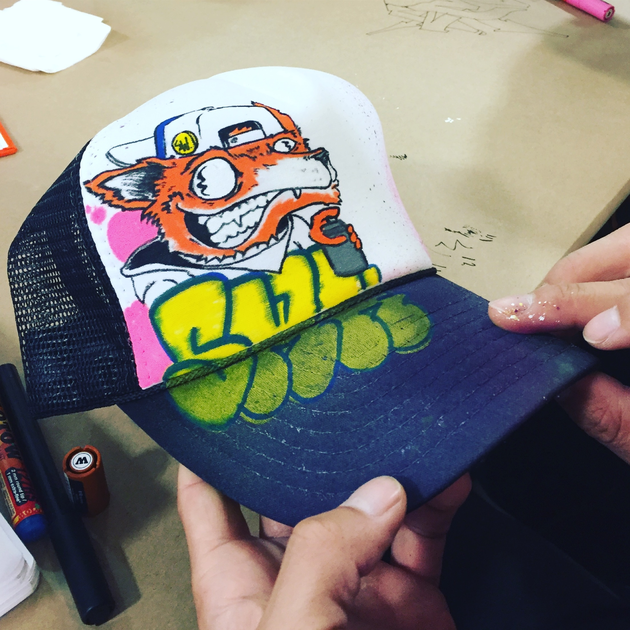 @Stiiv uses Molotow spray paints for the level of detail achievable
Spray paint artist @zropro showing some of our Molotow Acrylic Paint markers that he used at this event
Molotow Urban Fine Art Spray used at Saturday's event
@Iamweezle using Molotow Acrylic Paint markers for the first time in the Graff Capzz event at Blick on Bond in NYC