SPOTLIGHT ARTIST Sophie Theroux
Thalo loves to promote artists and each month, we will spotlight a member of our community!
This month we are pleased to have painter Sophie Theroux as the thalo Spotlight Artist.
THALO: Can you give an "elevator pitch" of your work?
Sophie Theroux: I am primarily a painter, and gravitate towards realism, impressionism and surrealism. I grew up and currently live in Western Massachusetts and the variety of landscapes found in this region has deeply influence my work. I enjoy painting landscapes plein air in the summer, with the goal of capturing some of the natural beauty found in abundance in this region.
T: Is there a common theme throughout your work? Is there something you want your artwork to convey to people who see it?
ST: I studied studio art and environmental studies in college. I integrate these two passions by creating work that speaks to the environment, and that aims to reflect the beauty of the natural world. It is important that we learn to appreciate and have a respectful relationship with our environment and I strive to address this in my landscape and surrealist work. My hope would be that the viewer would leave with a deeper appreciation for the natural environment after having seen my work.
T: Which artists do you feel have influenced your art the most?
ST: I am a huge fan of the colors and textures found in Van Gogh's works. I am enchanted by the light captured in Monet's paintings. I am also influenced by the work of Michelangelo and other works that came out of the Renaissance. The more contemporary artists that have had influence in my work are the performance artist Marina Abramovi, and the environmental art of Robert Smithson.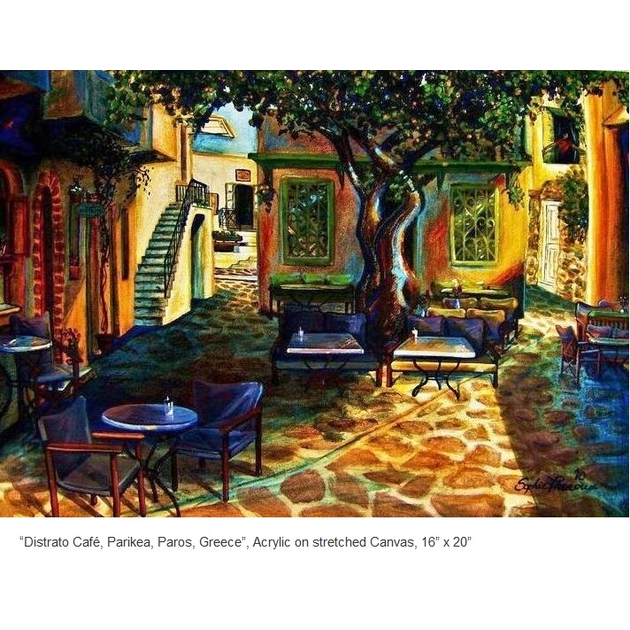 T: Out of all of your creations (or bodies of work) which one did/do you find the most cathartic in creating?
ST: The pieces that I have found to be the most satisfying to create are my plein air landscape paintings. Plein air painting is one way for me to respond to the utter beauty of the natural environment, and to respond to it. In doing a plein air painting, I am forced to gaze upon the same scene for a few hours, at which point it has left a strong impression in my mind as well on the canvas.
T: How has your work (or technique) changed over time?
ST: I am constantly changing my techniques and approaches to my work. I view each new piece as an experiment. I am a very impulsive and experimental painter, and care as much about my own artistic process as I do about the outcome. I have no set formula for how I create, as this varies depending on the subject and materials I choose.
T: How do you promote yourself and your art?
ST: I promote my work through social media, and also through word of mouth. I always try to have business cards on me in case I come across a bulletin board to put one on, or a person to hand one to. I teach classes locally and people have become familiar with my work that way. Having lived in the same area my whole life, I find word of mouth to be an excellent means of promotion.
T: What project are you working on currently? What are you most looking forward to with your work this year?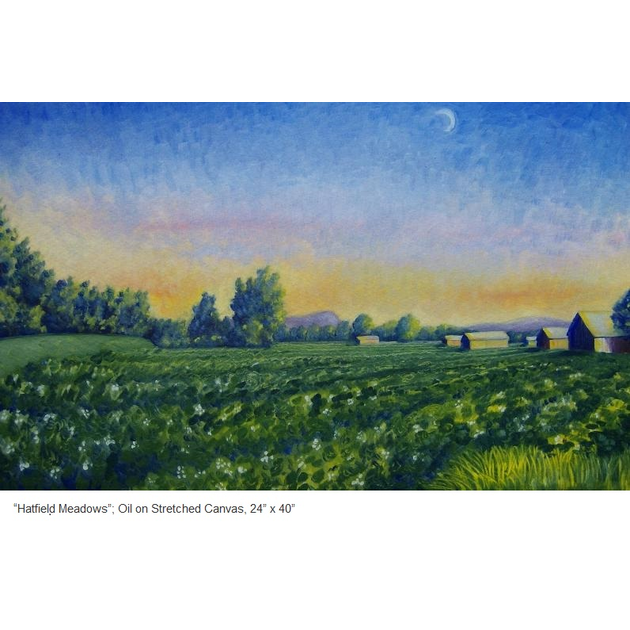 ST: Because it is summertime, it is plein air painting season for me. I hope to have at least a few local landscape paintings complete by the end of the summer. I am looking forward to the challenge of painting some of the fall foliage when October comes around. The fall foliage here in western Massachusetts has always been a challenge for me because of the sheer amount of colors present.
T: What is your favorite medium to work with, or what medium brings you the most satisfaction to use? Are there any mediums that you don't currently use that you'd like to explore?
ST: I sincerely enjoy drawing with ballpoint pens. I like all of the values that can be created with them, that they can't be erased, and the way they feel on paper. I also love working with oils and acrylics, and have recently begun working with watercolors. I would like to further explore watercolors, and would also like to explore wood-working, rock-carving and large scale clay-sculpting.
T: What would you consider to be your "biggest achievement" with your work thus far?
ST: My paintings have been available for sale at a local shop for a few years now. They are often hung in the display windows. This has been a great achievement for me - to have my work available for sale in my hometown.
T: What was your first work of art that you were proud of? Where is it now?
ST: When I was 18, one of my landscape paintings won a state-wide art contest, and it hung in the Capitol building in Washington DC for a year. That was a pretty big achievement for me at the time, and really gave me the confidence to pursue art more seriously. That painting, a scene of a local river, is now hanging in my parents' house. They won't let me sell it, which I appreciate, because it is hard for me to let go of work that I am proud of.
T: Do you take commissions? Why or why not?
ST: I take commissions, but hesitantly. Usually, I will accept a commission and at some point during the project, will regret having done so, simply because they are difficult! People can have very specific expectations for commissioned work, and I don't enjoy having to create work that caters to someone else's tastes. Nevertheless, I think commissions are a great way for me to advance and refine my skills.
T: What do you do when you aren't working on artwork? What are some of your hobbies/passions other than art-making?
ST: I enjoy outdoor activities. I kayak, swim and hike in the summer, and in the winter I snowboard.
T: More of Sophie's work can be seen at:
facebook page: facebook.com/sophietherouxartist
instagram @ sophietherouxartist