SPOTLIGHT ARTIST Brett Kelley: Art Mercenary
Thalo loves to promote artists and each month, we will spotlight a member of our community!
This month we are pleased to have visual artist Brett Kelley as the thalo Spotlight Artist.
THALO: Can you give an "elevator pitch" of your work?
Brett Kelley: I am regarded as an "Art Mercenary" by trade. I work in different mediums across various disciplines. Fine art to illustration to special effects make-up, with a heavy reputation in design (industrial, concept, interior, logo, etc.). I often collaborate with other creatives, but I've been working on a lot of personal projects recently with some level of success.
T: Is there a common theme throughout your work? Is there something you
want your artwork to convey to people who see it?
BK: I wouldn't say there is a universal theme to all the work I produce. I tend to make series of works surrounding a specific theme or focus and then move on to something else. I
enjoy making work that people can draw their own interpretations and conclusions from.
T: Which artists do you feel have influenced your art the most?
BK: I grew up inspired by Keith Haring and Bill Watterson, but these days have grown into a more widened scope of artists that deal in all sorts of work. A brief few: Brian Kesinger, Jake Parker, Ryan Ottley, Chet Zar, Ellen Jewett, Kim Jung Gi, Akhito Ikeda, Allen Williams, MissMonsterMel, Steven Russell Black, Android Jones, Jed Lieknes and Kris Kuksi.There are several dozens more!
T: What would your ideal gallery show be like?
BK: My ideal gallery show would be in a place like Booth Gallery, Cotton Candy Machine or 1988 Gallery. A gallery that would have a big opening with multimedia and music. Jovial and bright. I'd want to feature a few bodies of work in toy sculpture, illustration and fine art. Little something for everyone.I also enjoy group shows, so I'd definitely share the space with lots of other creatives.
T: Out of all of your creations (or bodies of work) which one did/do you find the most cathartic in creating?
Making artwork that often falls under the category of "scary" typically lends me the

more intense feelings of catharsis. Almost like an exorcism of sorts. Taking frustrations and sorrow and transmuting it into something not only productive but valued. However, I feel relief with every piece I make, so it's a continual endorphin rush with every work completed.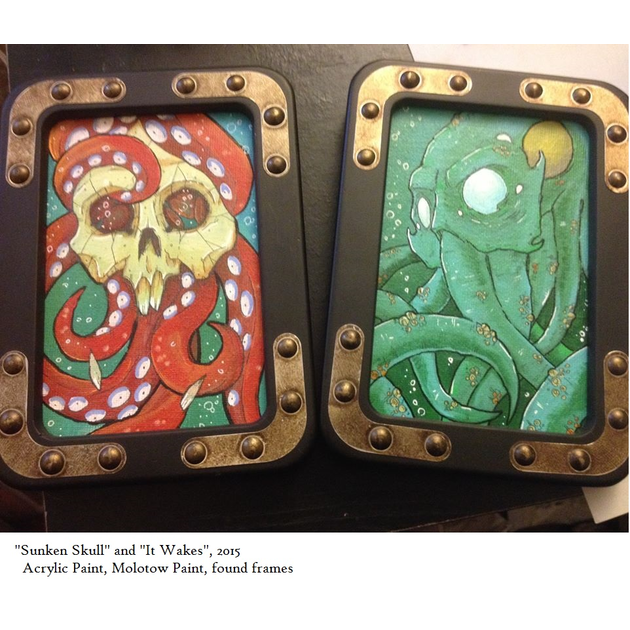 T: How do you promote yourself and your art?
BK: I use many standard social media outlets (blogs, Deviantart, Facebook, etc.), but as things have changed over the years I've found a more dynamic form of exposure via Instagram. That being said, I prefer promotion and interaction through one-on-one experiences, such as pop culture conventions and local art galleries. Nothing substitutes communication in real time.
T: What project are you working on currently? What are you most looking forward to with your work this year?
BK: I am wrapping up my first successfully funded Kickstarter Campaign. It's a Steampunk Themed Coloring Book titled 'Tales of Clockworktropolis'. Once that is finishe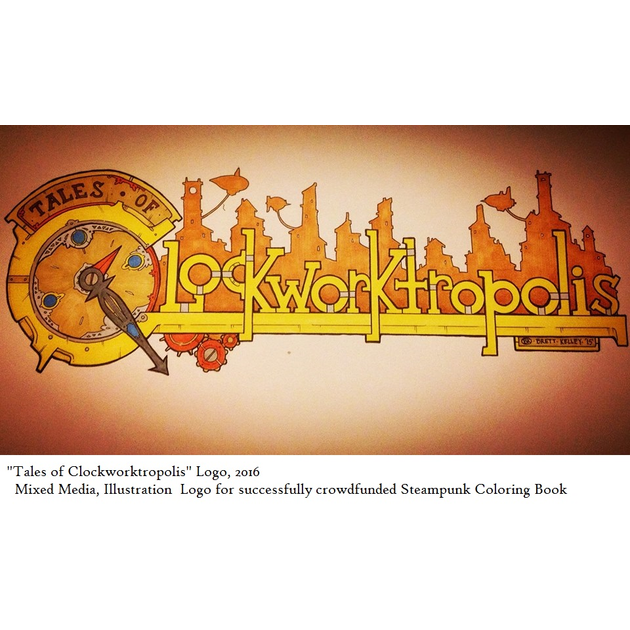 d I'm doing a split zine with an artist in Boston, Dave Mahan. I have a few side projects that I plan to unveil later in the year, specifically a new body of small works tentatively called "Putri-Fiction"... we'll see if the name sticks.
T: What is your favorite medium to work with, or what medium brings you the most satisfaction to use? Are there any mediums that you don't currently use that you'd like to explore?
BK: I like traditional illustration tools (pen & ink, pencil, etc.), and I paint with acrylics (Grumbacher specifically). I prefer these as I can produce pieces quickly with them. I would love to begin working in vinyl figure design and 3-D art, as I have a series of ideas that translate really well to physical form.
T: What would you consider to be your "biggest achievement" with your work thus far?
BK: I have certain achievements that I hold dear above others, but 2014 as a whole was a big year for me. I was a production artist for a city-wide Steampunk Installation project called "Steampunk Springfield" for Springfield, MA Museums. I helped curate and produce 24 works for multiple bodies of work that were shown in five different locations around the city for six months.
T: What was your first work of art that you were proud of? Where is it now?
BK: My father wrote and published a book when I was twelve and tasked me with providing interior illustrations and helping in designing the cover. That was the first time I'd drawn anything that was used for representational or display purposes, so I was pretty proud of that. It was definitely my first taste of making something that held a "professional" value.
T: If you were on a desert island, which artists would you want with you?
BK: .....artists that know how to build a boat, I guess? I'm unclear on the stipulations, otherwise I would say all the artists. Do we get art supplies? I may not be having as much fun with this question as it was intended.
T: Has the way that you acquire your art supplies/materials/equipment changed over the years? If so, how?
BK: Not particularly. I've always bought supplies at local art shops, picking up things on a whim to experiment. That has not changed, despite my loyalty to a few brands.
T: How has your work (or technique) changed over time?
BK: My style has aged and widened with repetition and eagerness to learn. I still illustrate in the same process I always have, only now I've begun incorporating more tools and techniques to expand my skillsets. The same with painting. The biggest change I would say is making the leap from less cartoon-y and graphic work to more realistic styles and progressive illustration.
T: Do you take commissions? Why or why not?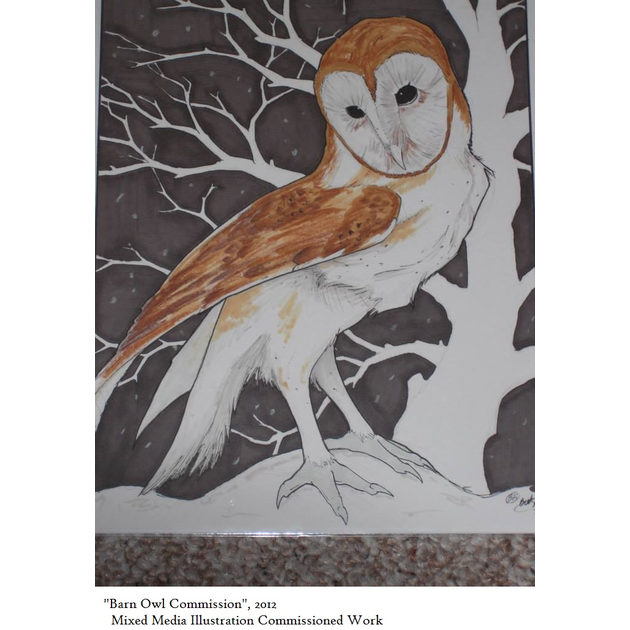 BK: I enjoy taking commissions, but I've limited them severely as my personal work has taken up more momentum the last few years. I take commissions at conventions and on special occasions. I've had success taking them, and the practice of freelance has been a great help to me in my career.
T: What do you do when you aren't working on artwork? What are some of your hobbies/passions other than art-making?
BK: I've kept to the drawing table a lot these days, but outside of work I like to dance/breakdance, play games with friends, write and perform poetry, all sorts of stuff. I'm a big music fan, so I tend to go to a lot of shows. I also go to conventions a lot and really enjoy the Steampunk scene in New England. I also sing karaoke, and am a moderate to proficient beer nerd.

You can see more of Brett's artwork on facebook at https://www.facebook.com/BKArtMerc or on instagram at @bkartmerc
Note:
Christmas Profile Picture taken by Babs Daniels of Babs Who Takes Pictures