Enjoy the Beauty of Paintings by Claude Monet
Claude Monet is well-known as one of the greatest Impressionists; his paintings are thought highly in the field of aesthetic. Monet uses various ways to create his works so that the paintings have the magic to interact the image and the reality. As we know, painting is a form that people use to convey their special feelings. Through paintings, people are able to enter the painter's inner emotion and world. And impressionistic paintings by Monet can strongly shock both our eyes and hearts.
Without question, impressionistic painting is always thought as one of the most unique treasures in the field of art. And Claude Monet is one of the most typical impressionist masters. To appreciate his works is not limited by the time; people nowadays can still enjoy the indescribable beauty of his paintings. This is easy to understand. We know that Monet always creates harmonious combination of shadows and light in his paintings which depicts nature scenes vividly.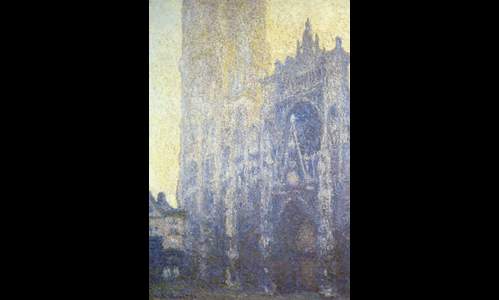 Monet abundantly uses the shadow and light to express his feelings in his art works. Let's have a look at his famous work Cathédrale de Rouen; he shows us the different appearances of Cathedral Rouen along with the time changes in a day. In the first picture, Cathedral Rouen is enshrouded by smog and fog and appears in light blue color in the summer morning. Then let's turn to the second picture, different from the dim light in the first picture, this one is bright and brilliant. The bright golden colors tell us that it is the scene at noon in autumn when the sunlight shine brightly on the roof of the cathedral. Cathédrale de Rouen; fully shows the beauty of the light and shadow. This is what Monet's artistic talent lays.
The beauty of paintings by Monet is also embodied in the obscure emotional feelings behind these paintings. We can feel different emotions from different paintings. Another work by Monet, Nymphéa, expresses mild peace and the charm of silence. Monet painted this picture when he lived in a peaceful village
Monet pours his personal emotions into his paintings while we often use our feelings to comprehend his works. Therefore, different people find themselves get different feelings from the same painting. However
, the only thing that we agree on is the beauty of Monet's paintings.
Source: Free Articles from ArticlesFactory.com
ABOUT THE AUTHOR
Photo 1:
https://commons.wikimedia.org/wiki/File:Claude_Monet_1899_Nadar_crop.jpg
Photo 2:
By Claude Monet - wartburg.edu, Public Domain, https://commons.wikimedia.org/w/index.php?curid=5504881
Photo 3:
By Claude Monet - The Metropolitan Museum of Art, Public Domain, https://commons.wikimedia.org/w/index.php?curid=2294013
Photo 4:
By Claude Monet - pAEsabNHoa1naA at Google Cultural Institute maximum zoom level, Public Domain, https://commons.wikimedia.org/w/index.php?curid=23610493
Photo 5:
https://commons.wikimedia.org/wiki/File:Claude_Monet_010.jpg
Photo 6:
https://upload.wikimedia.org/wikipedia/commons/f/f4/Claude_Monet_-_Nymph%C3%A9as_%28Waterlilies%29_-_Google_Art_Project.jpg
Photo 7:
https://commons.wikimedia.org/wiki/File:Claude_Monet_-_Rouen_Cathedral,_Facade_and_Tour_d%27AlbaneI.JPG