Thalo Spotlight Artist: Jamie Joslyn
Thalo loves to promote artists and each month, we spotlight a member of our community!
This month we are pleased to have Jamie Joslyn as the thalo spotlight artist for November 2020!
Thalo Team: Can you give an "elevator pitch" of your work?
Jamie Joslyn: I am a self-taught traditional artist based out of the Pacific Northwest with an anime and fantasy style that is focused mostly on female original characters but I am currently trying to branch out and draw more creatures and male figures. My medium of choice is alcohol markers but I've recently been dabbling in watercolor the last few years. Much of my work is on a miniature scale the size of a trading card. (Commonly referred to as Artist Trading Cards, Sketch Cards or ACEOs.)
TT: What is your artwork about and what do you want people to take from it?
JJ: I have always enjoyed drawing for as long as I can remember. I really wanted to draw something different growing up besides American cartoons, Disney works, still lifes and portraits. In middle school I discovered anime and fell in love with the style immediately. I enjoy putting movement and story into my art that hopefully gives the viewers some sense of emotion to feed off. It's always fun seeing how others interpret where the character might be going or what they might be doing. Sometimes it even adds to the story and more art.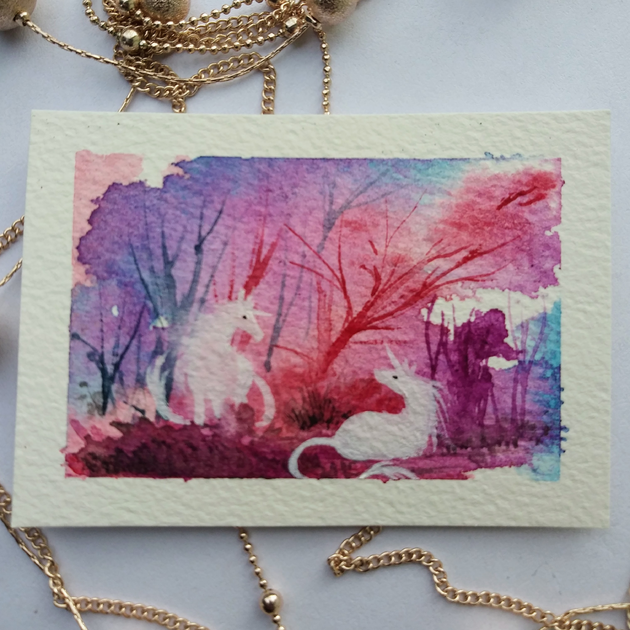 TT: Which artists do you feel have influenced your art the most?
JJ: While there are many artists I enjoy and whose work I follow on Instagram, I would say the biggest influences on my art style would have to be Naoko Takeuchi, the creator of Sailor Moon, CLAMP - which is an all-female art studio and Studio Ghibli who made the films Princesses Mononoke and My Neighbor
Totoro. All three have such beautiful styles, great stories, and magical scenes that it's hard not to be drawn to that magic and beauty. Also I think in some ways my mom has influenced me over the years. I remember seeing her paint whales in the ocean with rocks that made me want to create wonderful art
like her.
TT: Where do you like to present your work, and why? (Galleries, website, social media, etc.)
JJ: Mostly, I post my artwork on Instagram. I have tried using Deviantart, Facebook and even Twitter but have had little success or interaction from others on those platforms. Yes, I still have the accounts but I just don't use them as often. They make for great time capsules of older pieces though. The thought of
galleries scares me even though I think it would be fun to show at one someday.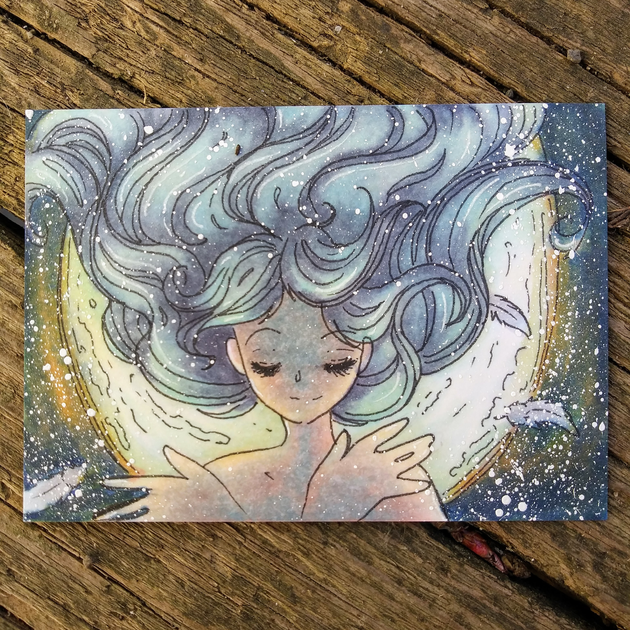 TT: Do you feel like your work has evolved? If so, how?
JJ: Of course! My style and skills have gotten stronger and there is much more movement in my work as well as I'm able to tell more of a story with it. More people are able to recognize my work as having been drawn by me. I'm able to use the skills I've gained over the years to help friends in their struggles on poses or ideas and sometimes even color choices. Also, I enjoy helping kids to figure out a direction they want to go with their style and whether to pursue digital or traditional mediums. And hopefully get them connected to someone that might be stronger in that department.
TT: Do you have any tips or advice for fellow artists based off of your experiences thus far?
JJ: Never give up on your dream of a style of art you want to achieve. Yes, you might not get to be exactly like the artist you admire but that's what makes your style your own. It will be unique to you. Trust me, you will one day hit a point that you are happy with your work. At that point you will start enjoying your artwork more and no longer think they are bad or ugly. Also, there is always going to be someone that looks up to your style. If you are afraid to try a pose just give it a shot. Even if you fail it's not really a fail, because you tried it and that's what's important. So keep at it and practice, practice, practice!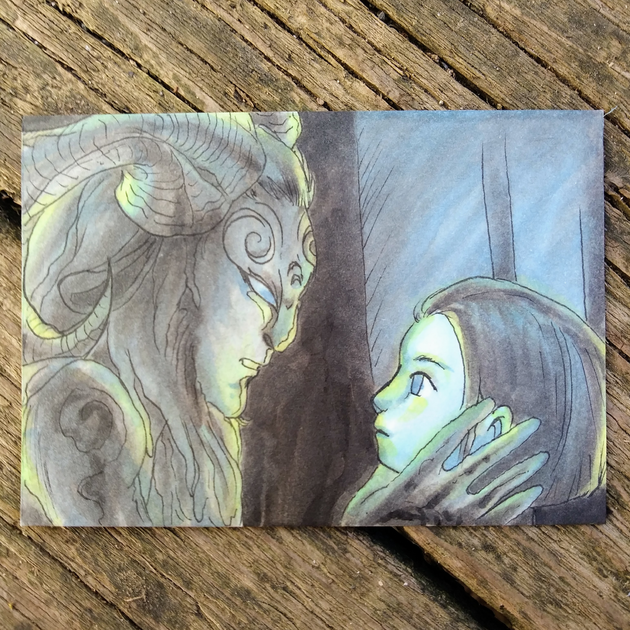 TT: What are you working on right now and why?
JJ: Lots of trading card projects! I think it's a never ending flow. I have a set with Iconic Literature and a Video Game set in the works. Personally, I enjoy working on card sets because it helps push me to expand and try new things. Also, some fun side projects with a group on Instagram called #ATCitupwithfriends. It's a great way to relax a little between larger projects and commissions while getting to share something special with friends and community members. If you are unfamiliar with ATCs (artist trading cards) or ACEOs (art cards editions and originals) they are small, 2.5"x3.5" trading cards (baseball card size) that usually have hand drawn art or mixed media on them. Personally, for me, they are easier to actually finish vs larger pieces.
TT: What would you consider to be your "biggest achievement" with your work thus far?
JJ: I think it would have to be getting to work with trading card companies. For me, getting an invite to work with Upper Deck on Marvel cards was a huge confidence boost. Boy, oh boy, was I unsure what I wanted to do for those cards too. So I reached out to more seasoned artists for help on how they decide who or what they are going to put on those cards. Then getting to work with Perna Studios on their card sets was another milestone for me. At first the Perna cards were intimidating, but now the Perna cards are one of the fun sets to work on.
TT: What was your first work of art that you were proud of? Where is it now?
JJ: My first work of art I was proud of was also the first piece I sold, which was at the Sakura Con Art Show in the early 2000's. Just because all of the fuzzy feelings you get knowing that someone wants your art and enjoys it enough to hang on their wall forever. I'm not sure who bought it so I can only suspect the
piece is somewhere still in Washington state.
TT: Do you take commissions? Why or why not?
JJ: I do! I plan on revamping the way I take on commissions next year to hopefully make things easier for me and the client getting the art piece.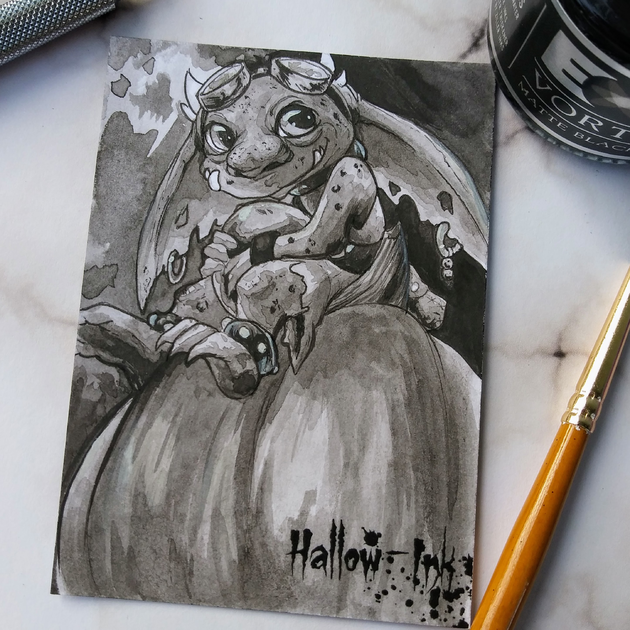 TT: What do you do when you aren't working on artwork (hobbies, job, etc.)?
JJ: When I'm not working on art I enjoy playing video games and pen paling. Yup, the old pen and paper letters in my mailbox. It's relaxing, rewarding and it's special happy mail. Also, as weird as it sounds spending time with my chickens. They are a fun little army of birds that follow me around. I really enjoy the sounds all their little feet make while walking next to me. It only takes one chicken to see me from a far and they ALL come running to see me and what treats I might have for them. They are spoiled, and yes I have lap chickens. Oh, and cooking. It's almost like an art form on its own.
TT: How do you overcome art blocks?
JJ: I help break art blocks by taking a break from art and spending time on my other hobbies or just have a lazy day. Making time for you and things you enjoy is important. Also, if you're really in the mood to art but not on the things you should be doing go ahead and work on another piece instead. Or make random doodles because sometimes those end up pretty cool that you'll want to make them as larger pieces later. It's not going to help you or the art that needs to be done if you have to force it out. It almost takes some pressure off when you give yourself art time for your own works.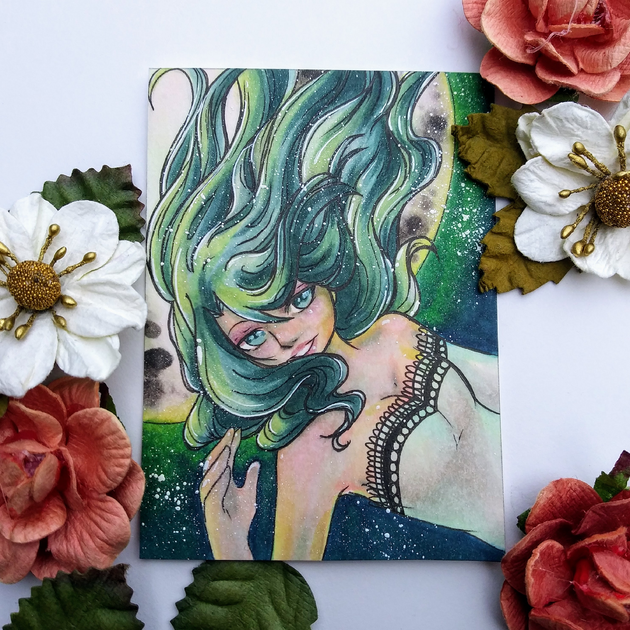 TT: Where do you see your work taking you in the next 5-10 years?
JJ: In the coming years I want to get stronger and better at my art and hopefully in that time frame make a comic. However, my struggle with the comic book idea is writing a story. I think my short term goal is to actually get an online shop going with different products like prints, stickers, originals, and pins. Maybe
shirts or hoodies too?
TT: Is there something that you would like to share with us that we have not covered, that pertains to you and your work?
JJ: Yes, actually two bits of advice that were given to me during my school years. One teacher told me "less is more." At the time I really didn't understand what he meant until years later I realized the point is that it's easy to add too much to a piece such that it actually takes away or even ruins it. The other advice was from my high school art teacher who always told us to keep our sketchbooks and ideas to reflect back on them later in life. You never know when you might revisit an idea or want to redraw it. So take value in those books! And a last bit of advice from me - keep in mind they are SKETCHBOOKS and don't
have to be masterpieces!
TT: If you have links for your website, Facebook page, Instagram, Twitter, etc. that you would like to share, please include these addresses below.
Instagram https://www.instagram.com/dragonalloy/
KO-FI https://ko-fi.com/dragonalloy
Deviantart https://www.deviantart.com/dragonalloy
Facebook https://www.facebook.com/dragonalloyproductions