Thalotober Artist Series: Jamie Joslyn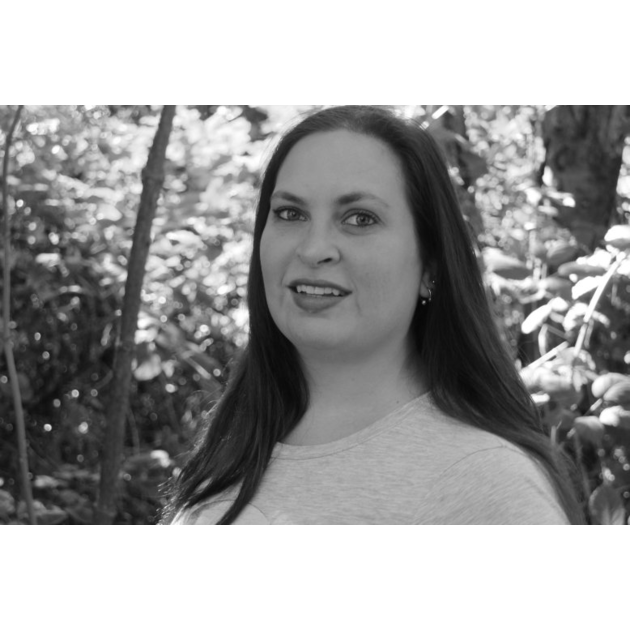 Some days you just need to try something new, or play around with materials that are outside of your comfort zone. For me, Inktober is a wonderful time to do this. Try some new approaches and have some fun while doing it. What I really wanted to do this year was fill a sketchbook and experiment with ink painting.
Now I've been a marker artist pretty much since I began my journey as an artist over 20 years ago. But recently in the past year or two I have been learning to watercolor paint. Learning that new medium led me to approach this year's Inktober in a new way for me. I decided I would do some painting with inks which is far outside the realm of how I normally work with illustration markers but within the new realm of wet media I've been exploring. I also really wanted to limit myself this month to a smaller set of materials. Of course I didn't always stick to those materials because who needs rules when doing art right? But overall, most of what I used was a bottle of black Higgins ink, some distilled water, various brushes and watercolor or mixed media paper.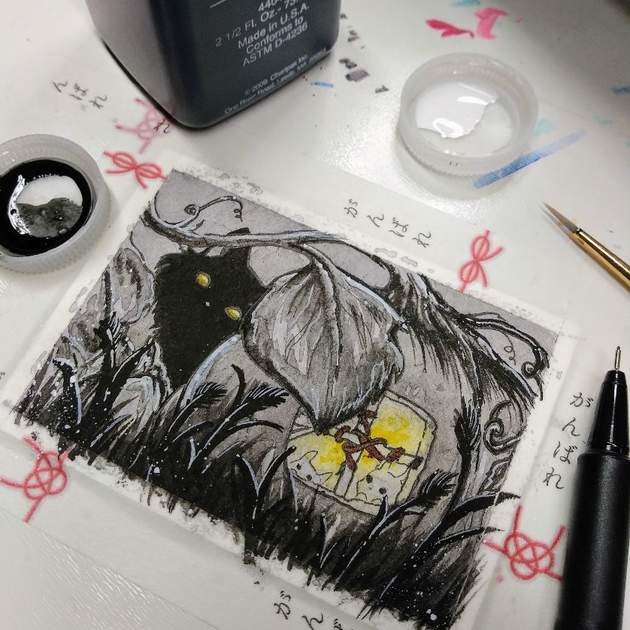 I typically approached each piece by starting with that day's prompt from the list I had created with feedback from my instagram friends and followers. I hoped that this list would keep me motivated and perhaps others might enjoy using it along with me.
If doing an ink painting that day I'd whip up a sketch, usually on some watercolor paper - mostly trading card size of course as that's my size/format of choice and it's easier to tackle a small piece in one day for me then it is a large one. Then I'd throw...ok meticulously ink some of the line art with ink liner pens.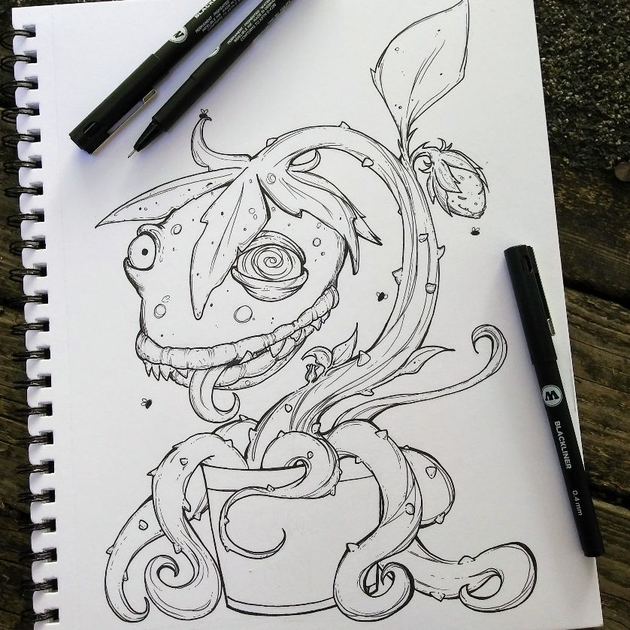 After it dried I'd take my Higgins ink and about 10 empty plastic bottle caps, yes plastic bottle caps, recycle reuse right! I'd use them to hold my varying dilutions of the ink and I'd also have a larger cup of watered down ink nearby. After that? Paint the layers...and layer….and more LAYERS. Oh goodness the layers for ink paintings were way more than I normally do when I've painted with watercolor. It was slow and sometimes hypnotic for me just building up these layers of diluted ink. I was really surprised how many more layers it took me on an ink painting before I was satisfied then it would on a watercolor painting or even marker illustration. I think it's because using the same color but different dilutions made me have to work harder for contrasts as well as building up the illusion of form/curves/depth etc. And I discovered, I'm very impatient with drying times and I definitely need to nab myself one of those mini heat guns. I've heard that they can change the way watercolor paint (and ink) will dry so that is definitely something I want to experiment with as well.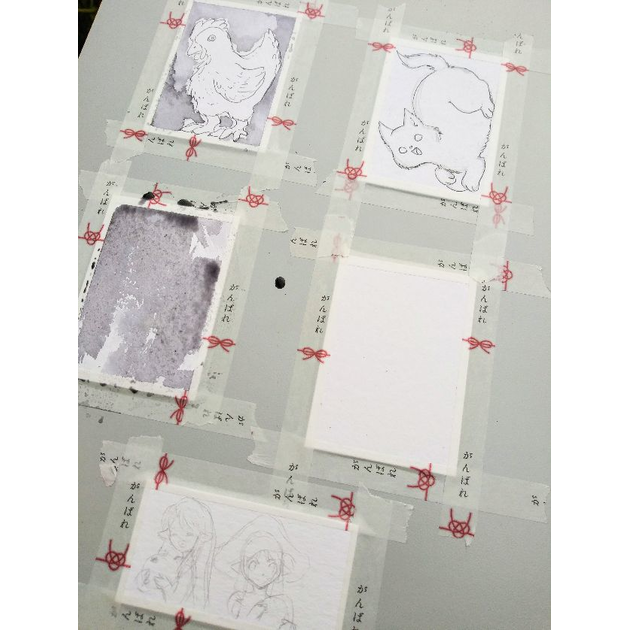 Since I haven't been using a heat gun I attempt to let it dry and switch to working on another piece before going back to it. Gotta use every spare minute. When it's time to finish, I clean up the line art with some ink liners and add a bit of detailing with either white paint or white gel pens, And then it's time to peel the tape!!
Even though I focused today on telling you a little about my dabbling with black and white ink painting, that wasn't the only materials I used this October. I also did some colored ink paintings, pieces with water markers and then some ink line art only pieces. With all of that I'm happy to say as of right now I have a sketchbook that is half filled and a handful of little ink paintings that I'm very pleased with. The study in values, shadows and highlights with the ink paintings has really given me a new kind of appreciation for color. And in case I didn't tell you enough already an appreciation and patience for painting in layers.
Be sure to follow Jamie's artwork on the following social media handles:
Jamie's Instagram: @Dragonalloy
Jamie's Deviantart account: catgirlnekochan.deviantart.com