Thalotober Artist Series: Christopher Gendron
Thalotober's Artist Article Series:

Christopher "ARTmuffin" Gendron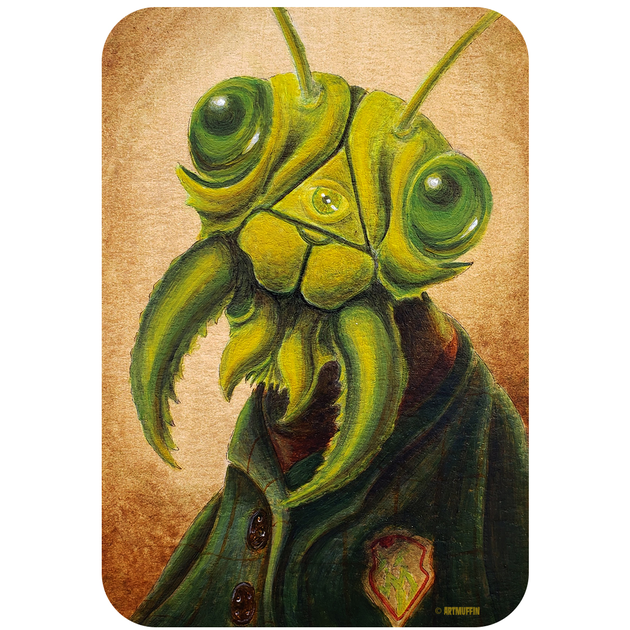 2020 is my second year of participating in InkTober. I was fortunate
to be a part of the Higgins Art Team in 2019 and to be featured in the
Thalo Artist Spotlight. That was very exciting and motivating for me
and really kept the 'creative juices' flowing and pushing me more and
more to come up with a new concept for each day's prompt word. I tried
to create an image that had a slightly different take on the word, or
some sort of twist or turn that might not have been expected.
Sometimes it worked, and sometimes it didn't. That's the thing about
drawing something new every day, especially if I haven't planned it
out ahead of time. By the time I'm done with the drawing I find myself
just as surprised by the final piece as the rest of the world. Some of
these drawings just have a life of their own and demand to be drawn a
certain way. Overall I'm very happy with how those pieces came out
last year and it was great practice for my drawing and inking skills.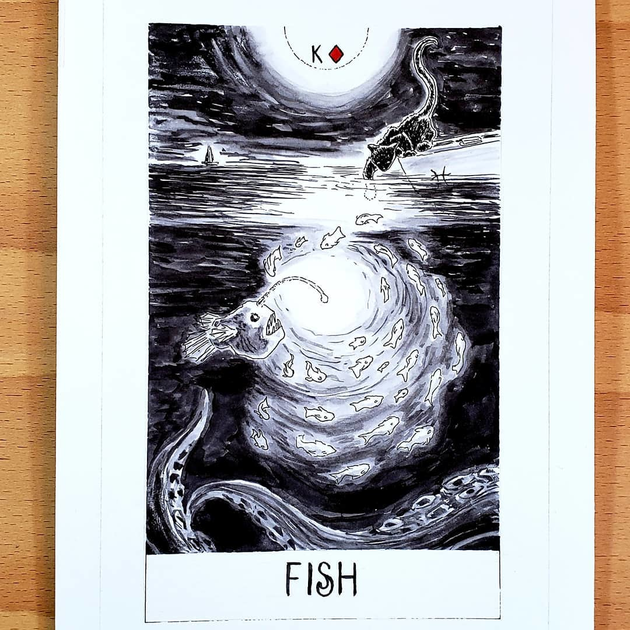 Now, here we are in 2020 and I'm super excited to be a part of the
Thalo Art Team for their very own #Thalotober2020. For this event I
decided I would use the 31 days of discipline to work on a project
that I'd had running around in my head for a while; my own style of
Lenormand cards. The Lenormand cards are a deck of 36 cards with
history that dates back to early 18th century Europe. At first glance,
the Lenormand cards might seem like tarot cards, but they are in fact,
different from tarot. Unlike tarot, the Lenormand cards tend to focus
on practical matters. "Tarot focuses on the 'why', while Lenormand
tends to focus on the 'how'." - Quoted from
The more I read about the Lenormand cards the more I became interested
in them and was finding myself thinking about and seeing in my head
the designs for some of the cards. When ThaloTober rolled around this
year I thought it the perfect time to create my own deck while
incorporating my own theme and hopefully not straying too far from the
original concept or iconography of the original.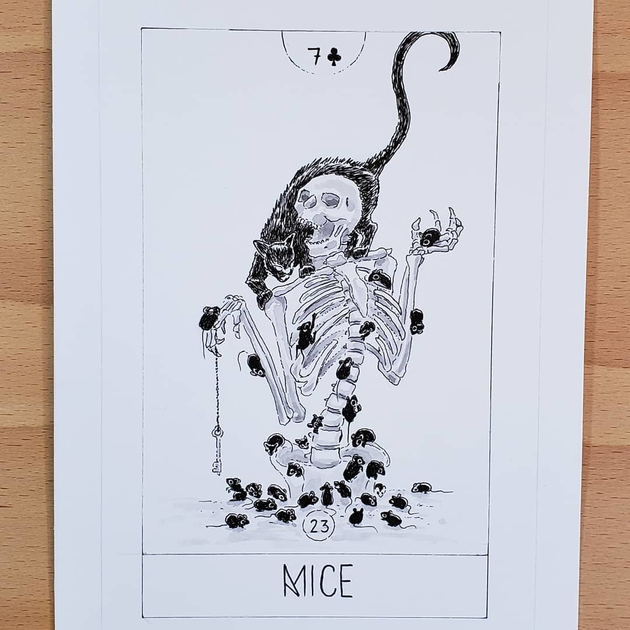 As I was thinking of design concepts for the deck I was at first
struggling with what the overarching theme would be that could run
throughout the deck without interrupting the original design. I kept
getting a feeling that I needed to create this deck but I had no idea
why other than I was so drawn to it and to the way it worked. I
continued to think about the images of some of the cards, and then I
suddenly became fixed on the first card, the Rider. I searched online
to look at different styles of the deck and of the Rider card
specifically, just to see what was out there and what had been done,
or not done, and how other artists had chosen to portray the Rider. I
mostly saw variations of something or someone riding a horse. Then I
started thinking about a horse and what rides a horse. I could change
the rider to be Death, a horseman of the apocalypse, a hooded figure
with a long scythe or sword, or on fire, etc, etc….too easy and
predictable. I thought of things riding snakes, riding fish, nothing
was feeling right in my head and none of this was leading me towards
an overarching theme for the entire deck. Then, I think it was a day
later, I thought of the Rider card again and a witch on a broom popped
into my head. Now we're getting somewhere! Still a bit predictable but
more in the direction of things I like to draw and getting closer to a
theme. I stored the idea in my head to think about it more. The
following morning I was out riding my bike and was wearing a shirt
with a black cat on the front of it. I pulled off to the side of the
road to take a quick break and suddenly had a thought and saw it as if
it were right in front of me, Black Cat. It felt so right, a true 'ah
ha!' moment. Black Cat! Of course! The Black Cat Oracle deck, based on
the Lenormand deck, was born. I could still keep the same overall
concept of the original cards but also add in a black cat that would
accompany the image. Sometimes it might be a more central part of the
design, and sometimes just an observer. But I could work with it in a
way that would keep it out of the way when needed but still give the
cards a little more personality. Being that my partner and I love cats
and are cat owners it only seemed fitting to bring cat magic into the
That is how the Black Cat Oracle deck was born.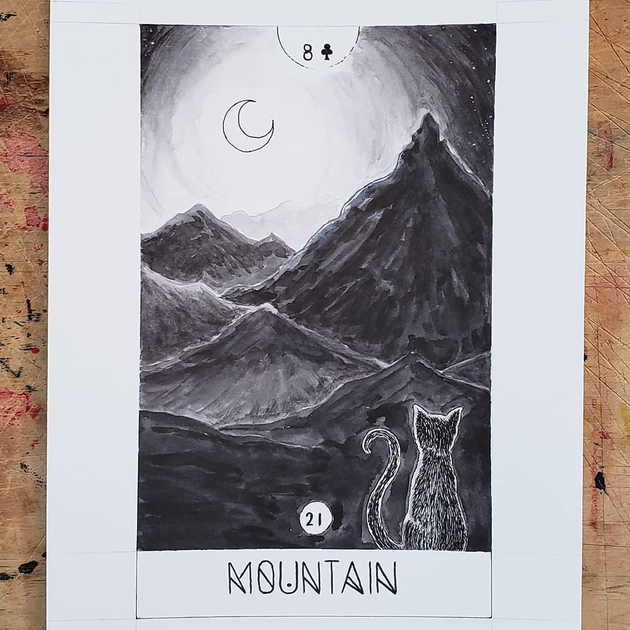 For the day to day process, I start by using a random number generator
each evening that chooses a random number from 1 to 36. Whatever
number it chooses is the card number that I draw the next day. I like
to have the evening to think about the design before I start drawing.
The next day I sit down and will do research for reference if needed,
then will usually do a very quick sketch (3-5 minutes) just to work
out where things will be and the size of things within the card, then
I just start sketching the card lightly with a pencil and get it how I
want it. Once I'm happy with the pencils I break out the ink and bring
it into the world. When we reach the end of October I'll be 5 cards
short of the full set of 36 cards so I'll need to do those last 5 to
complete the set. Then I'll scan them and clean them up as needed and
get them printed as a full set of Black Cat Oracle cards. I'm sure
I'll post all about it on my Instagram and Facebook pages as well as
in my online store. Keep your eyes out for them! And if I don't see
you before then….Happy Halloween!
Be sure to check out ARTmuffin's social media: