Thalo Spotlight Artist Adele Flamand-Browne
Thalo loves to promote artists and each month, we spotlight a member of our community!
This month we are pleased to have Adele Flamand-Browne as the thalo spotlight artist for June 2020!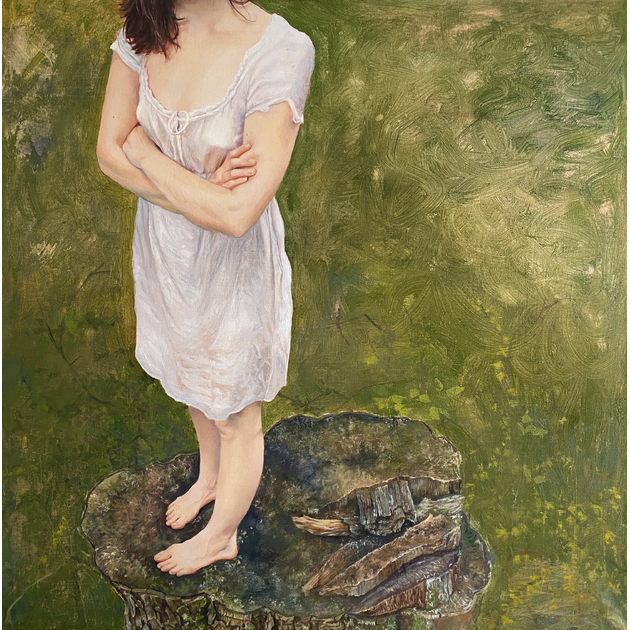 Now what: 2020, oil paint, 24x24" - @uhdele

Thalo Team: Can you give an "elevator pitch" of your work?
Adele Flamand-Browne: My work is focused on the female figure and is heavily influenced by the impact of line and contrast in monotone mediums. I like to utilize the dramatic effect of strong lighting and body language to manipulate the overall atmosphere of the piece.
TT: What is your artwork about and what do you want people to take from it?
AFB: I'm not sure my work has a singular theme, but is more of a way to purge past thoughts and imagery into physical media. I more so aim to get the piece to a place that matches whatever memory or feeling it instigated, rather than wanting it to form a singular response from other people. If anything I would hope that the imagery resonates with the viewer in a way that they can connect to their personal experiences.
TT: Which artists do you feel have influenced your art the most?
AFB: There are many artists from past and present whose work I revisit. The first person that comes to mind is Antonio Lopez Garcia. I think my work really took a turn and progressed forward when I saw the possibilities of drawing within his work. It was exciting to see drawing hold as much importance in his process along with his paintings. I'm also very thankful for the ability to interact with countless of artists throughout the world through Instagram. Being able to have an insight on how they create was integral to my development in the past few years. I could go on forever listing the amazing artists on there but some that come to mind are Colleen Barry, Zach Oldenkamp, Aron Wiesenfeld, Amaya Gurpide, Brad Kunkle, Jordon Sokol, Katie Whipple, Zoey Frank, and countless others.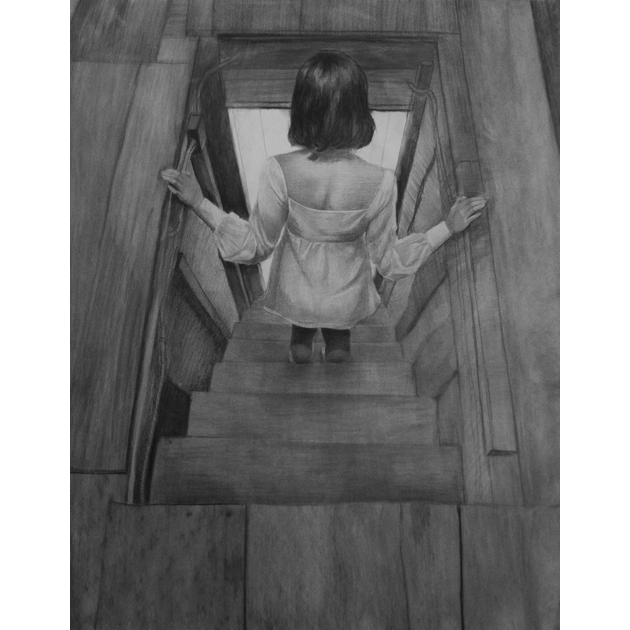 Ascending: 2018, charcoal pencil, 39.5 x 30" - @uhdele

TT: Where do you like to present your work, and why? (Galleries, website, social media, etc.)
AFB: Up until now I would say 95% of my work has been presented on social media, which has both helped and hindered my creating process. I would like to progress towards making at least a quarter to a half of my work being presented in galleries. On social media it is true that you can reach a vast amount of viewers from places you wouldn't be able to otherwise, however the viewership can be very fleeting. I would love to be able to explore how people interact with my work in person, and how that may be different from the interactions I've experienced so far.
TT: Do you feel like your work has evolved? If so, how?
AFB: I think it has definitely evolved. I would say that my approach has evolved more than my imagery, and I'm working to get to a place where both can develop side by side. It has definitely been scary to try to re-think my creating processes and why I choose the images I do. Uncertainty can feel very vulnerable and unsettling when thinking creatively, but I feel that I have leaned into that a lot more recently.
TT: Do you have any tips or advice for fellow artists based off of your experiences thus far?
AFB: The main advice that I would give to others, and one that I try to continue to follow myself is to constantly look outside the boundaries of imagery you are comfortable with. It's very easy to surround yourself with artwork that you are aspiring towards, but I think making an effort to be cognizant of all sorts of mediums and artists is important developmentally. The longer you spend boxing yourself in the harder it is to reach beyond it or accept more into your circle.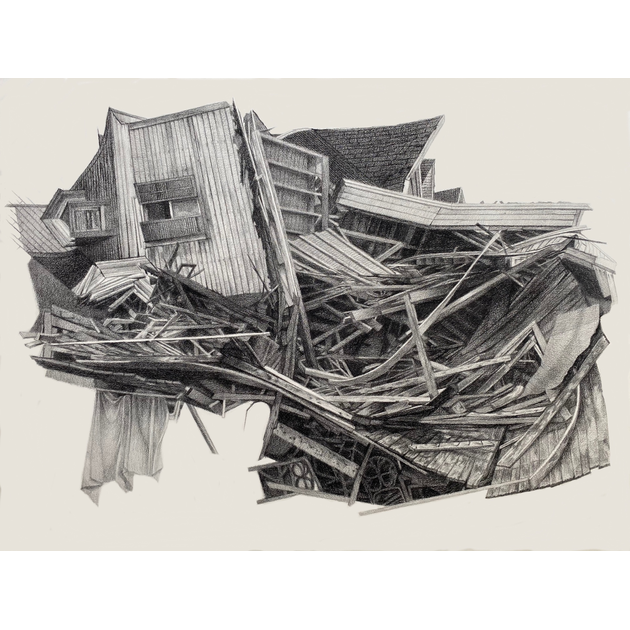 Nest: 2019, charcoal pencil/graphite, 18.5x22" - @uhdele

TT: What are you working on right now and why?
AFB: Right now I am working on small-scale ink drawings of both figures and outdoor scenery that I find very approachable and calming to create. I think there are times and places to challenge your work and your routines, and right now I don't think that would be positively conducive for me. So instead I'm letting my drawings help me think and process.
TT: What would you consider to be your "biggest achievement" with your work thus far?
AFB: I think my biggest achievement with my work so far has been realizing when to stick my ideas and the direction I'm going in, and when to challenge and reevaluate my thinking. I'm still learning how to balance the two but understanding that both are important has been an influential milestone for me.
TT: What was your first work of art that you were proud of? Where is it now?
AFB: I think the first artwork that I was truly proud of and still brings me that feeling is a pair of drawings I did for my senior show in 2019. It has been to a few local Connecticut shows since but they now reside with me in my home!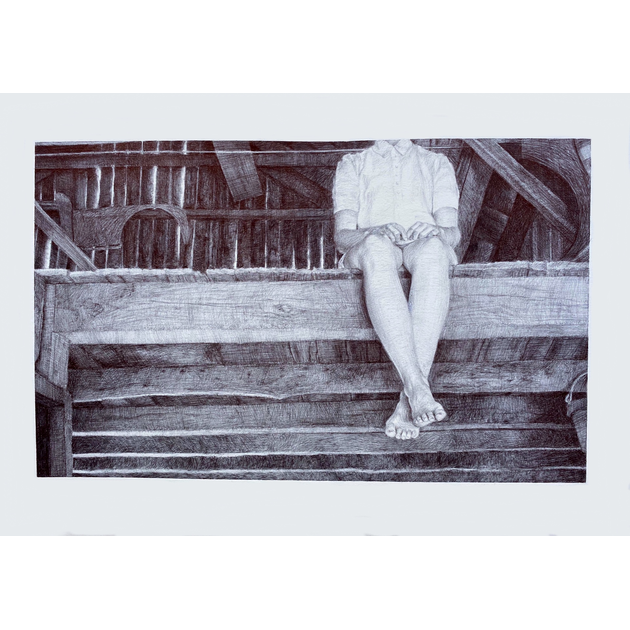 Barn loft, 2020, ball point pen, 7x5x12" - @uhdele

TT: Do you take commissions? Why or why not?
AFB: I haven't taken a huge amount of commissions in the past mostly because I wanted to hone in on my style of work and what drawing language I wanted to use consistently. I think its difficult to apply your touch to imagery that isn't your own and I'm still working on creating a consistent and recognizable style for myself.
TT: What do you do when you aren't working on artwork (hobbies, job, etc.)?
AFB: Because drawing takes up most of my time indoors I like to spend the rest of it outdoors. I love to experiment with gardening and appreciating the cycles of nature. Photography plays a large part in my work and I enjoy any chance I can get to capture small details or scenes to incorporate later into my imagery (or just to admire later on.)
TT: How do you overcome art blocks?
AFB: I found what works for me best during art blocks is to do more looking than making. Frustration when it comes to not making work that I'm pleased with tends to hinder me far more than it motivates me, so giving myself time to absorb imagery that inspires me tends to be much more productive.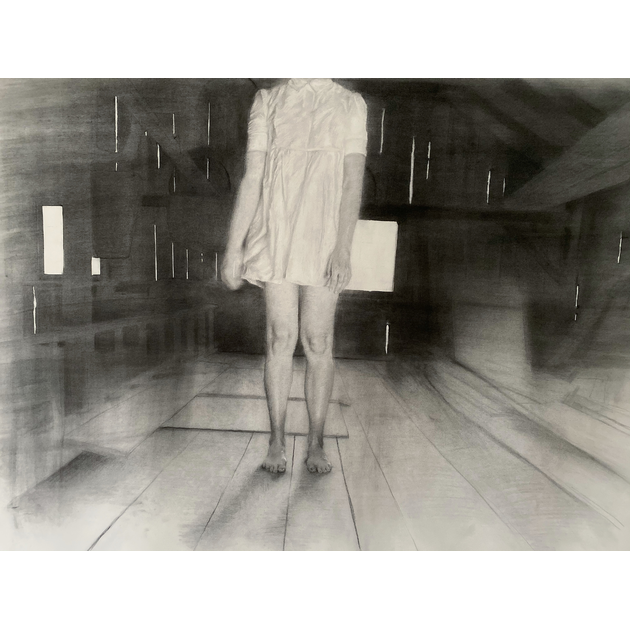 Attic: 2019, charcoal pencil, 34.5x41" - @uhdele

TT: Where do you see your work taking you in the next 5-10 years?
AFB: I'm hoping that my work allows me to connect with other artists around the world. In the past few years has taught me anything it is that artists are some of the most generous people with their time and knowledge, and I would love to be able to collaborate and meet with as many people as I can.
TT: Is there something that you would like to share with us that we have not covered, that pertains to you and your work?
AFB: Having an open-ended question leads me to want to say something that could help out other people so I'll go with that! Something that I wish I would have done more of earlier on in my learning process was reach out to artists that I admired. I have realized that so many artists are more than willing to share their processes and what kind of materials they like to use, or even are just open to discuss the inspirations behind their work. It can be intimidating to approach people whose work seems to be so unreachable but I have found that the art community is an extremely accepting and open-handed group. I hope that in the future others feel open to reaching out to me and that I can continue to pass on knowledge that was generously given to me.
TT: If you have links for your website, Facebook page, Instagram, Twitter, etc. that you would like to share, please include these addresses below.
AFB: My instagram is @uhdele and my new website is www.adeleflamandbrowne.com