Thalo Spotlight Artist Tony Santo
Thalo loves to promote artists and each month we spotlight a member of our community!
This month we are pleased to have Tony Santo as the thalo Spotlight Artist for January 2020!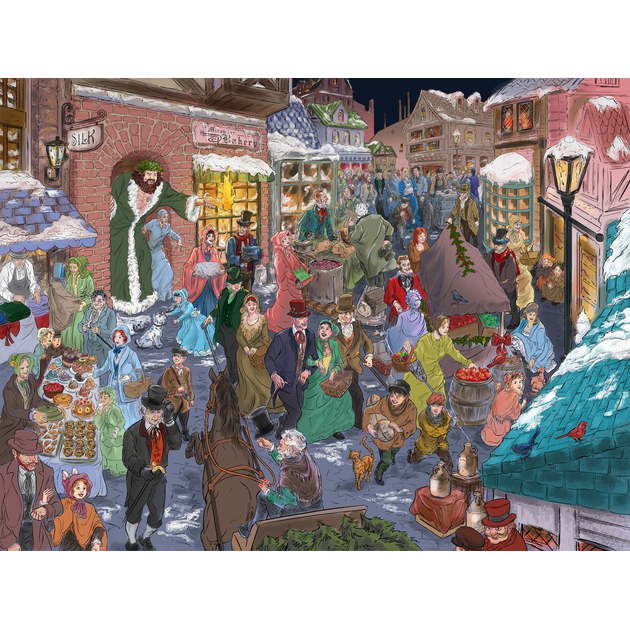 Illustrations © 2019 by Tony Santo

Thalo Team: Can you give an "elevator pitch" of your work? …
Tony Santo: I do storyboards for commercials, animation and games. If you've seen commercials for History Channel's "Vikings" or watched performances at "Wrestlemania" then you may have seen a small selection that I worked on.
TT: What is your artwork about and what do you want people to take from it?
TS: It ranges widely from commercial storyboards to story illustration and concept art. When time permits I work on my own projects.
TT: Which artists do you feel have influenced your art the most?
TS: Difficult to answer accurately, since some of the greatest artists inspire me although I paint nothing like them. I've studied a lot of Visual Development artists from Disney starting with Fantasia and getting into the whole catalog. My earliest influences were comic book artists like Jack Kirby, Sal Buscema, Gil Kane, Alex Toth. I then studied the master artists like Picasso, Heinrich Kley, Felix Topolski in and after art college. I am mesmerized by all the vintage illustrators like Ronald Searle, Robert McGinnis, Al Parker, Robert Maguire, Joseph Clement Coll, Henry Pitz, Franklin Booth. The past years I study a lot of concept art like Craig Mullins, Fheng Zhu, Sparth and others.
TT: Where do you like to present your work and why?
TS: I enjoy posting on social media forums like Artstation because you get your own page of thumbnails to display. I love Instagram and Facebook mainly because of the immediate gratification they provide me. Many say one should only post one's best work in these forums because you are "branding" oneself, but it serves me better if I post whatever I want, even if they are just sketches or studies. I have my main web site for all my professional work – Instagram and FB give me something I can share that probably won't find it's way into my main web site.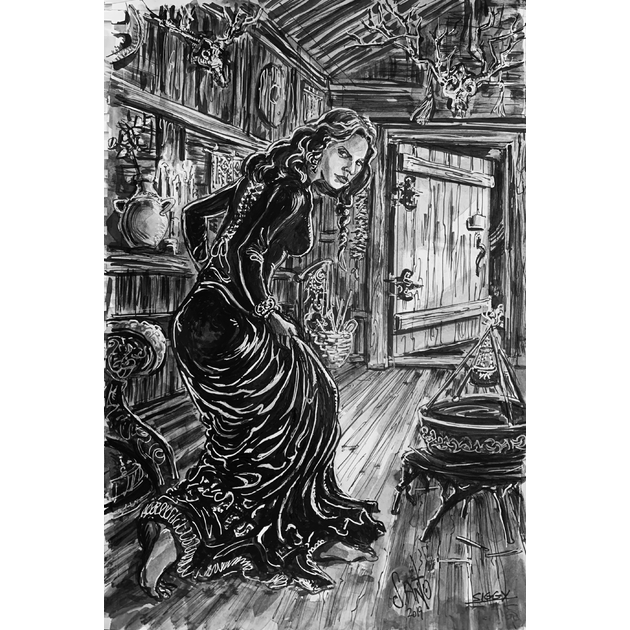 Illustrations © 2019 by Tony Santo

TT: Do you feel like your work has evolved over time? If so, how?
TS: My work has definitely evolved as I spend more time in the industry. When I started storyboards as my main job, I was spinning storyboards at such a rate that I became known as the guy comes up with ideas and images on the spot for a campaign that needed brainstorming. As time went on I noticed areas that I would like to improve, not just in technique but also in drawing quality and better design choices. Meanwhile, in my personal stuff, I've become better at different media that I had typically avoided – like watercolor and markers.
TT: Do you have any tips or advice for fellow artists based off of your experiences thus far?TS: My best advice is to make a habit to draw regularly. Go to life drawing and don't be so precious about your final drawing. Move on to the next one. Draw from life. Frequent short drawing sessions are probably more crucial to growth than clearing your schedule for a full day of drawing. You will embed good habits by repetition and learn to think on you feet as a result.
TT: What are you working on right now and why?
TS: I'm currently in the end of December and finishing my annual illustration from Dickens "A Christmas Carol." I started doing annual Scrooge illustrations when I got tired of coming up with a brand new holiday card idea every year. I love Dickens. "Scrooge" with Albert Finney is my favorite Christmas film so it made sense for me to embrace the story each year. I can return to each year without starting from scratch again. After that I will probably bounce around with some more Viking and Tarzan drawings in January.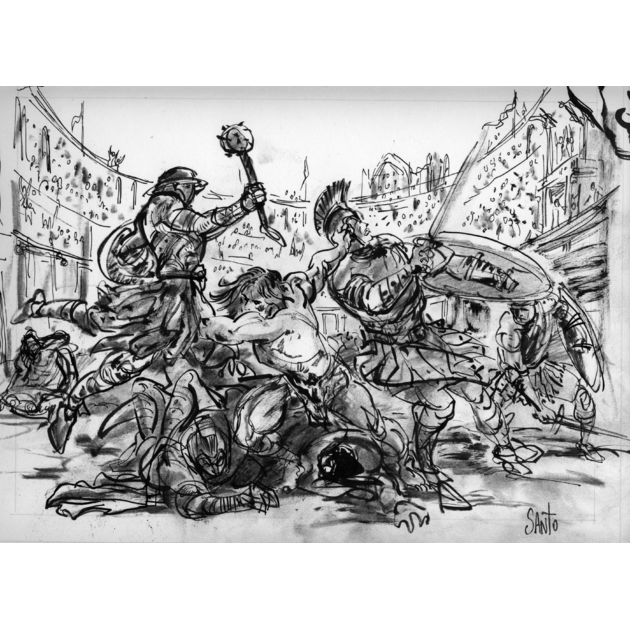 TT: What would you consider to be your "biggest achievement" with your work thus far?
TS: It's impossible to say because as an artist I try to push and make breakthroughs all the time. Probably my biggest breakthroughs occurred when working as Promotion Art Director at Billboard Magazine in the mid 90's. I designed ads using different styles of illustration for three years, trying to raise the bar each time. I gained a lot of chops hitting those deadlines and demanding more from myself while keeping in mind my main function in Promotion was to raise ad revenue. Working at Disney was a milestone I will never forget and I have my warmest professional memories working on those films that I love watching to this day. As Art Director on Madden, it required a major transformation in mindset and to learn pipeline methods for video games. Cinematic design and vis dev for games became a strength for me. Since then I have been offering client's animatics, cinematic design and prototyping in addition to my storyboards.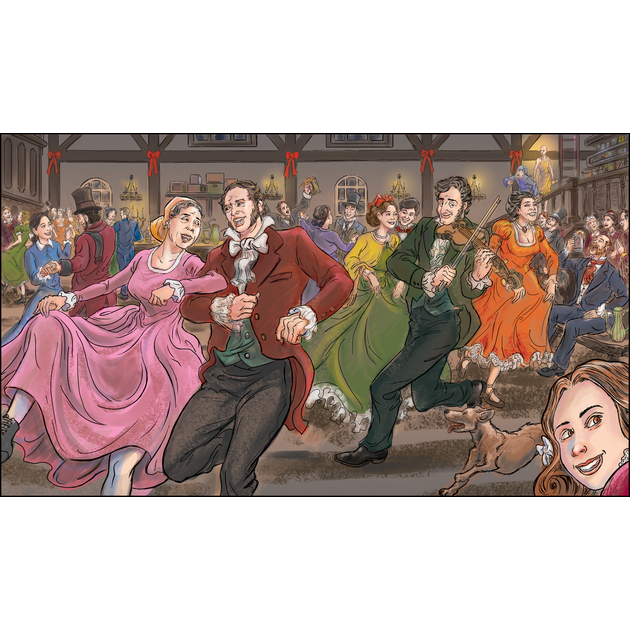 TT: What was your first work of art that you were proud of? Where is it now?
TS: I did a massive color pin-up of every Marvel Comics Super Hero I could think of when I was in 6th grade. I stayed in my room and isolated myself with delusions of grandeur until I developed an anxiety problem and destroyed the art out of frustration. Lesson learned. Don't fall in love with your work.
TT: Do you take commissions? Why or why not?
TS: Sure, but I don't work in an industry that reaches that audience. Advertising art is considered impersonal and doesn't present many opportunities for personal commissions. I am trying to get to a place where my personal stuff is appealing enough that people would like to follow me and collect a bit.
TT: What do you do when you aren't working on artwork (hobbies, job, etc.)?
TS: I mainly spend time with my kids or paint landscapes if weather permits. I watch a lot of movies. I've developed an appreciation for hiking wherever the landscape is invigorating and appreciate if there is a historic presence on the way.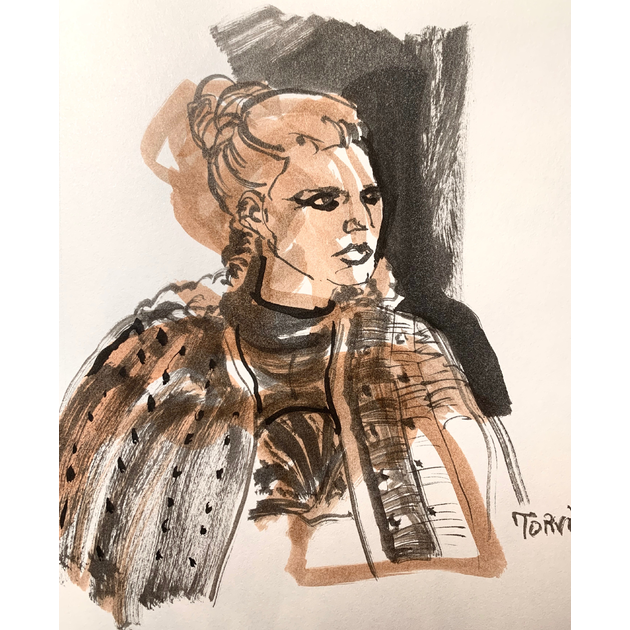 Illustrations © 2019 by Tony Santo

TT: How do you overcome art blocks?
TS: The most important thing for any artist block is to get more information and plan a premise. If you just want to draw what's in front of you at the coffee shop that's fine for practice, but to create an intellectual piece of work requires inspiration that I like to get from reading and research. The greatest minds on earth have recorded their thoughts in words and pictures. Why not get curious and explore them, and ask better questions of yourself as an artist/illustrator? What do I want to accomplish? What am I explaining or exploring in my work? How can research help me and inspire me?
TT: Where do you see your work taking you in the next 5-10 years?
TS: I'm guessing more digital art using digital programs like Clip Studio Paint for my comic book ideas. I'd like to bone up on some quick 3D packages in addition to Maya. Probably the most driving thing that inspires me now is the study of light and color in my painting. Long term goal – intellectual property development.
TT: Is there something that you would like to share with us that we have not covered, that pertains to you and your work?
TS: I am an Art Ambassador for Chartpak Artist Supplies, and in that role I get to demonstrate and promote their awesome line of art supplies. I love how traditional supplies remind me to practice and stay sharp and think things out the old fashioned way. You can check out my Art Station page and my Instagram account (links below). I've also just launched a new web site, which covers mainly the last ten years of professional and personal work. I've written over 25 industry articles on LinkedIn which I hope people will check out.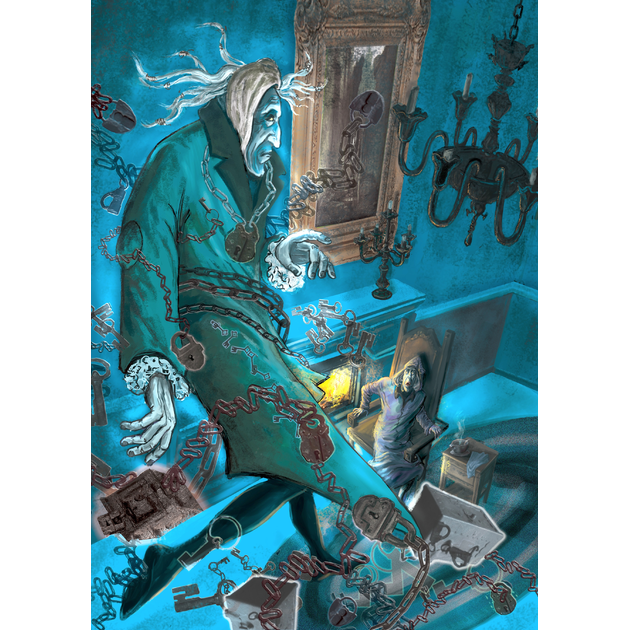 Illustrations © 2019 by Tony Santo

TT: If you have links for your website, Facebook page, Instagram, Twitter, etc. that you would like to share, please include these addresses below.
TS: You can visit my sites at the following links. Thanks for interviewing me and giving me this time to showcase my thoughts and work!
http://tonysanto.com/home.html
http://mediahygiene.blogspot.com/
https://www.artstation.com/tonystory0403
https://www.instagram.com/tonysantocreative/