Spotlight Artist Jon Sideriadis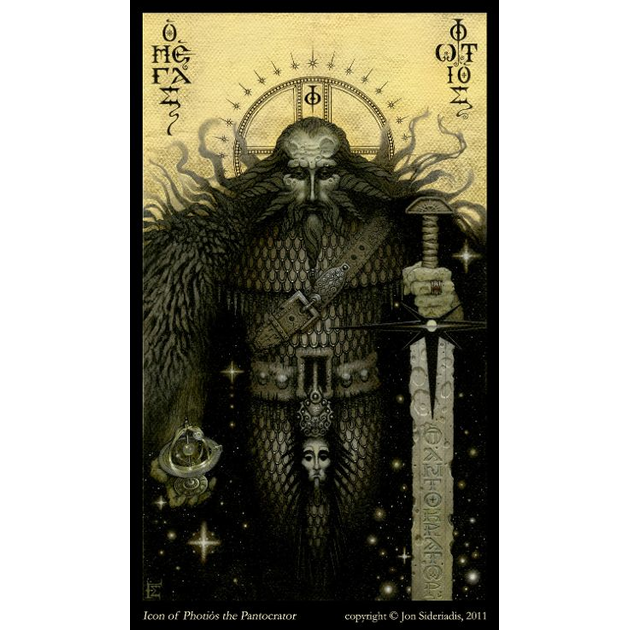 Thalo loves to promote artists and each month we spotlight a member of our community!
This month we are pleased to have Jon Sideriadis as the thalo Spotlight Artist for December!
Thalo Team: Can you give an "elevator pitch" of your work?
Jon Sideriadis: Astromythos is a Greek word I've purposefully invented. It translates to "The Star Mythology," and it also serves as the title for my fictional world. My vision culminates in an illustrated trilogy I started in the year 2000. Astromythos combines the words "astronomy" and "mythology," two subjects for which I am intensely passionate. And in the tradition of Ancient Greek and Epic poetry, the world of Astromythos presents an older, more sophisticated mode of storytelling to fans of mythology and contemporary fantasy. Heavily influenced by Byzantine art and Illuminated manuscripts, each of my intricately detailed paintings depicts an allegorical character or scene from one of the myths in my Astromythos universe. To the young or old, literary scholar or sci-fi fan, both my paintings and my myths provide a feast for the imagination.
TT: What is your artwork about and what do you want people to take from it?
JS: My artwork and stories are didactic. I want people learn something about themselves when viewing and reading my work. Just like the myths of ancient times, my work is meant to help people cope with the world around them and the hardships they face in life. Myths are meant to heal and inspire, and that's what drove me to develop my own in the memory of my Greek forefathers.
TT: Which artists do you feel have influenced your art the most?
JS: Leonardo daVinci, John Bauer, Gustave Dore inspired me most.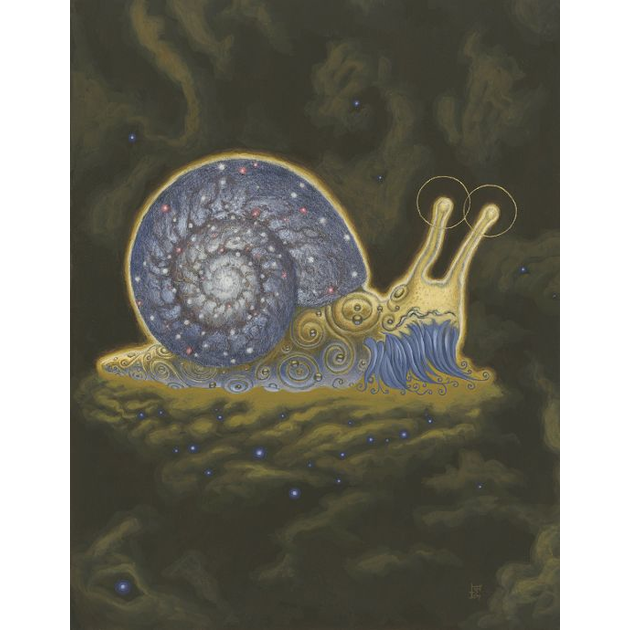 TT: Do you have a preferred method of presentation for your artwork and why? (Examples: workshops, gallery shows, Instagram, etc.)
JS: I prefer to present my artwork at fantasy art conventions like IX and FaerieCon and tabletop game conventions like GenCon. Here, the guests are just as enthusiastic about mythology as I am.
TT: Out of all of your creations (or bodies of work) which one did/do you find the most cathartic in creating?
JS: The two most cathartic pieces I've created, besides the story itself, are the Pantokrator and The Fall.
TT: When was your "Aha!" moment that led your work to where it is now?
JS: My "Aha" moment occurred in college at the Boston Science Museum when I saw an image of the Horsehead Nebula. I saw a figure walking along on the gas and dust and this led me to create anthropomorphized stars, planets, comets, and moons. The narrator of my epic poem is based on what I saw that day, and this is also why Astromythos is a story about good against evil (stars and black holes).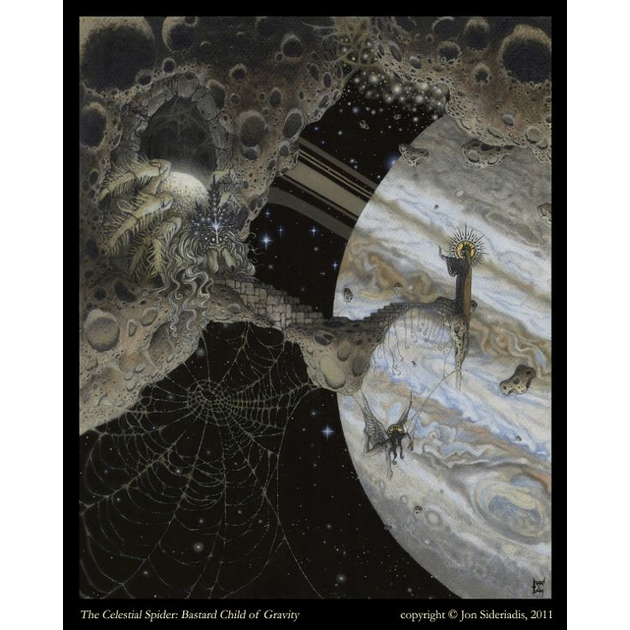 TT: How has your work (or technique) changed over time?
JS: My technique is constantly evolving because I teach myself a new medium or two every year. I just recently learned how to airbrush and wood-burn after mastering gold leaf and real meteorite inlays. My favorite medium is oil paint. Acryla-gouache and watercolor are my second and third.
TT: How do you promote yourself and your art?
JS: I promote myself and my art on Instagram, Facebook, and on my website. I also promote my work in solo shows, group shows, at conventions, renaissance fairs, open studios, and on podcasts.
TT: Do you have any tips or advice for fellow artists based off of your experience thus far?
JS: My advice for aspiring artists is work hard every day even when you don't feel like it. Make exciting work. Get out and network as often as possible.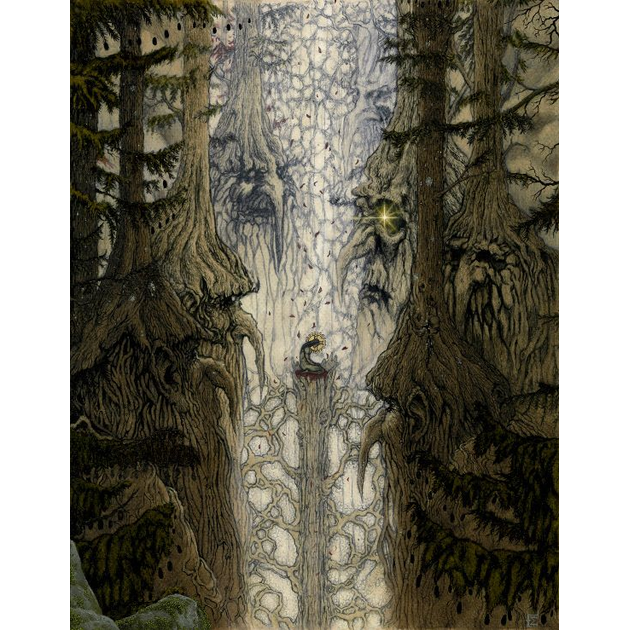 TT: What are you working on right now and why?
JS: I'm working on art assets for Gaming Honors LLC because I've always been an avid board gamer and was excited to work with a promising game company.
TT: What would you consider to be your "biggest achievement" with your work thus far?
JS: My biggest achievement thus far was the "Best in Show" award I won at GenCon 2019. It was given by a jury of my peers who are some of the best fantasy artists in the business.
TT: What was your first work of art that you were proud of? Where is it now?
JS: The first piece I was proud of is framed and in storage, waiting to come with me to my next show. It is a drawing called Crystal Planet. It is a fantasy landscape drawn in graphite and I drew it in college.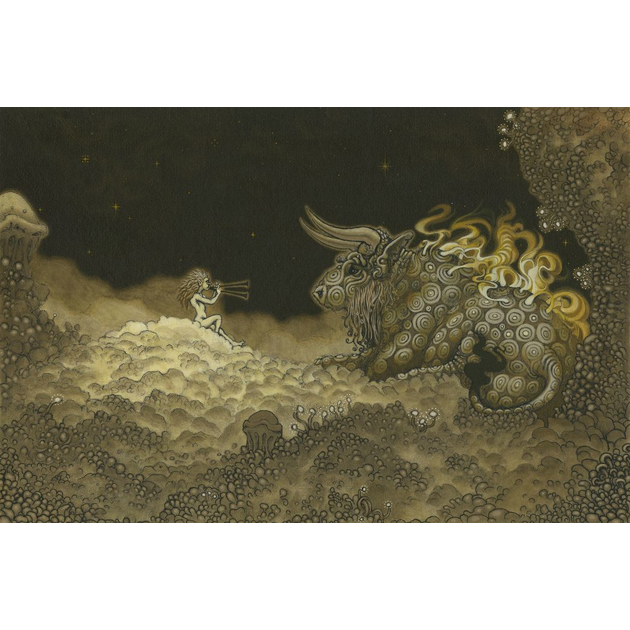 TT: Do you take commissions? Why or why not?
JS: I do take commissions but am very selective of the projects I take on. The more different kinds of commissions I take, the better it is for my students and my marketability.
TT: What do you do when you aren't working on artwork (hobbies, job, etc.)?
JS: When I'm not working on artwork, I'm building scale models, painting miniatures, reading myths and epic poems, researching new tools and techniques, and running a D&D campaign.
TT: What is an area in your work that you feel weak in that you want to improve upon and how are you going to get there?
JS: I feel like I spent so much time teaching myself how to write and so much time writing Astromythos Book One, that I'm a little behind my peers in terms of my technical drawing and painting skills. Now that I've hired a co-author (Rafael Vega) to write my book as a fantasy novel and expand on the world, I have more time to catch up.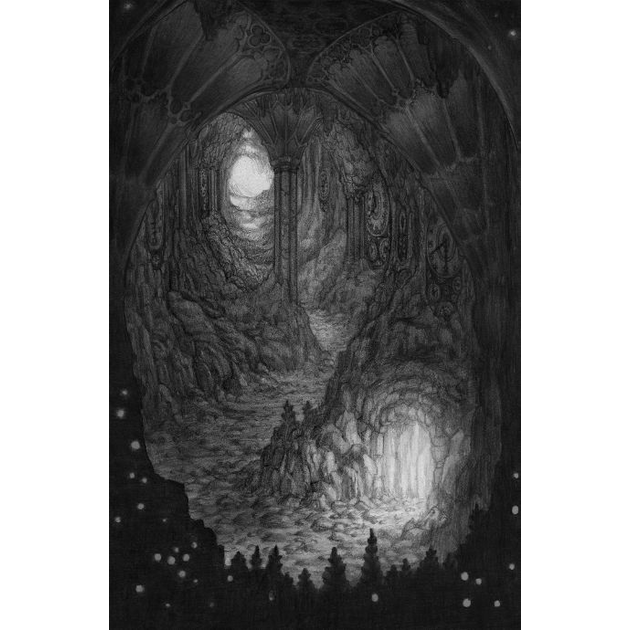 TT: How do you overcome art blocks?
JS: I don't have any art blocks luckily. If I ever did, I would go to a museum, or the symphony, or read a new book, or go hiking.
TT: Where do you see your work taking you in the next 5-10 years?
JS: In the next 5 to 10 years, I see my work taking me to new conventions, winning me more awards (hopefully), and I see Astromythos taking off and becoming the next popular trilogy series.
TT: Is there something that you would like to share with us that we have not covered, that pertains to you and your work?
JS: I'm also full-time professor at the University of New Haven. I am the Illustration Program Coordinator and I find it to be one of the most rewarding aspects of my life.
TT: If you have links for your website, Facebook page, Instagram, Twitter, etc. that you would like to share, please include these addresses below.
JS: Links to my social media:
Facebook: Jon Sideriadis
Instagram: @jonsideriadis
Website: www.astromythos.com