Talking Shop: Galleries
"Welcome to Thalo's "Talking Shop" series! In this article series we will be discussing important topics of conversation that are forever present in the art world. The intent of these articles are to carve out a mid-ground on some of the hottest button topics the internet has to offer!"
If you've ever set foot in a crowded room, grasping for good conversation with strangers in a fog of drying paint and cheese, you've probably asked yourself: "Is this worth it?" You aren't the first, and most certainly won't be the last. In this article we'll look at the pros and cons of the gallery exhibition as an opportunity to artists. As all things discussed in this series, there isn't a one-size-fits all answer for everyone. The better question to ask is "Is this worth it to you?" We have taken inventory of the various talking points, logistical observations and stigmas surrounding art galleries and presented them for your consideration: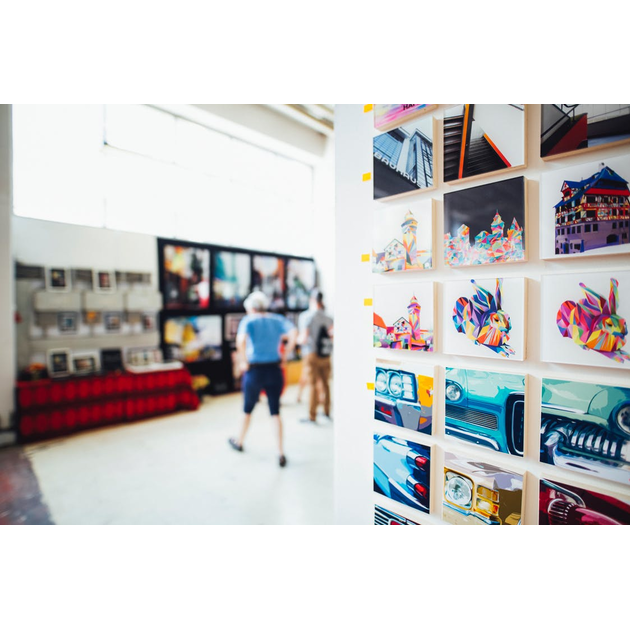 Pro: Bigger, Curated Audience
Being part of a gallery means having access to a new social ecosystem.The chances are likely that if a gallery takes interest in your work, those who routinely visit that gallery will take interest as well. Being involved in a gallery event is a fantastic method of getting your name out in the world and encouraging the people who follow the gallery to follow your work.
Con: Risky Business
There are few guarantees in the world, and in a gallery setting, a calculated chance is being taken on your art. You rarely know how (or when) your work will be appreciated (let alone sold), and it's good to hope for the best and prepare for the worst. It's important to make sure you approach these opportunities strategically. This means finding the right galleries that like your work, finding the right group shows to contribute to and develop relationships with to minimize that risk.
Pro: Experience
There is a social value to being involved with a gallery. The ability to receive feedback and see in person how people interact with your art is a fantastic experience. Another benefit to this process is to be able to list a gallery show on an artist CV. It can distinguishing you as a professional instead of a hobbyist. Gallery events can show how work with others and contribute to a community-oriented environment, and can add to your legitimacy as a serious creative. It can be challenging to professionally document and present yourself creatively, and gallery experience can be a great way to communicate this kind of fluency.
Con: Stressful
Being in a show can be both exhilarating and stressful. Artists should be aware that showing at a gallery involves labor, scheduling, and lots of social interaction. Openings are an opportunity to sell your work, but also demand to sell yourself and your brand. This can be challenging for the more introverted artists. There's a lot of pressure, both self-imposed and externally-imposed to a gallery opening that may affect an artist's experience and comfort.
Pro: Network
A gallery provides artists a stage to the public. It can also allow for an artist to meet other artists, patrons, clients, collectors and curators. This is one of the biggest benefits of working with a gallery. The chances of meeting the people that can help build, grow and inspire you and your brand are increased significantly if you are open and willing to take that step. More lifelong creative connections and associations are made on gallery floors than fiscal transactions.
Con: Costly
The visible (and hidden) costs of gallery life should be noted, as there are many. Most galleries charge a 15-50% take of any artwork sold at a show, so you must make sure you are pricing your work accordingly. If you price your work too low, you may increase your chances of a sale, but that will affect your total earnings, as well as the overall value of your artwork. If you price yourself too high, you may accidentally scare off patrons who may not be able to afford your work. Getting your artwork show-ready may include framing, insurance, shipping and can include other costs (application fees, travel, etc.). Depending at what stage or level an artist is at, these investments may not be the best option.
Pro: The Traditional Spectacle
There is a tradition of sorts in having a gallery show. It is a longstanding ritual for artists, and comes with a certain amount of prestige, personal accomplishment and excitement (albeit an equal amount of nerves). Getting your art out of the studio and into a public space is a big step in your creative career, and galleries are the best way of ushering in that process. There are many artists whose work is more impactful when seen in person than on a screen, and that physical connection helps strengthen the relationship your art has with your audience.
Con: Other Options
These days, galleries are not the only avenue an artist has at their disposal to get their work out there. Many prefer to showcase their art online have no shortage of communities, groups and websites that offer opportunities. Some online services can provide resources a gallery can't, such as merchandising, custom framing and print reproduction as options in addition to purchasing your work.
In summary, galleries can be an amazingly helpful tool for the right person. The exhibition experience is not for everyone, but if you enjoy introducing yourself to new people and have a passion for discussing both your work and yourself you can get your work to the right people. Even if galleries are not your preferred method, it's well worth it to show at one at least once, if only for the experience. Who knows? You might like it, or better yet, get a sale!
We hope this helps! Do you have any stories showing at a gallery or have something to add that we forgot? Let us know in the comments below. Stay tuned for more "thaloriginal" content designed to help the modern day artist.