Spotlight Artist Tatiana Anisimova
Thalo loves to promote artists and each month we spotlight a member of our community!
This month we are pleased to have Tatiana Anisimova as the thalo Spotlight Artist for May.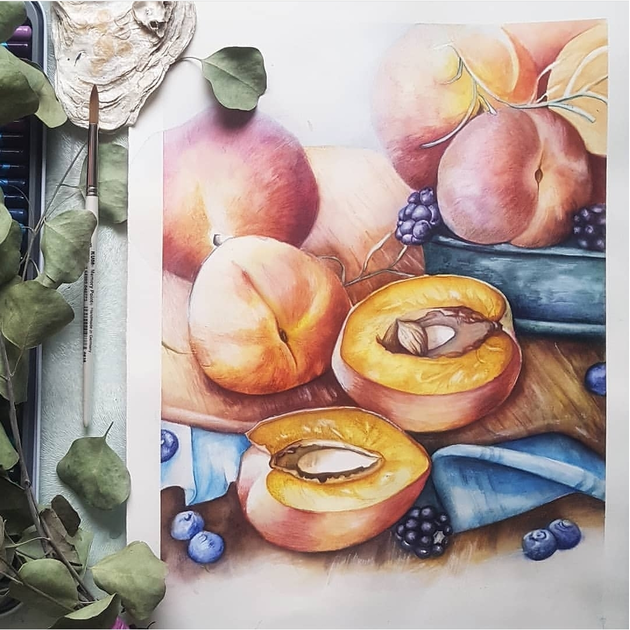 Tatiana Anisimova - Watercolor Pencils on A3 - @arreolatani
Thalo Team: Can you give an "elevator pitch" of your work?
Tatiana Anisimova: I'm a biologist working in botanical illustration. I've got master's degree in science 10 years ago but always wanted to be an artist. I'm a self-taught artist inspired by nature especially by floral world. Honestly my favorite season is spring when streets are in full bloom.
TT: What is your artwork about and what do you want people to take from it?
TA: Botanical illustration it is very exciting field of art. From doing book illustrations to textile prints where you can see your creation in a different angle. It is very inspiring when you turn your art into a product. Realistic painting is a very slow process, I can say it is meditation when you relax and create. Illustrations take hours and hours of work.
TT: Which artists do you feel have influenced your art the most?
TA: I'm just in love with impressionism. I few weeks ago I visited an exhibition where I was enjoying watching masterpieces from many famous artists of that age. I wanted to stay all day and return one day again.
Tatiana Anisimova - Watercolor Pencils on A3
TT: Do you have a preferred method of presentation for your artwork and why? (Examples: workshops, gallery shows, Instagram, etc.)
TA: I do workshops and demos. I love exhibitions where you can demonstrate your talent and meet new friends. I'm enjoying communicating with people and sharing my experience. I wish I can manage a solo exhibition one day.
TT: Out of all your creations (or bodies of work) which one did/do you find the most cathartic in creating?
TA: Flowers. Flowers. Botanical art! Blooming Vancouver is something incredible that everyone must see. Recently found very attractive to paint still life compositions with much complicated scenes where you see many different textures and use different techniques. It is so exciting when you combine wood, glass and the transparency of the petals or velvet texture of the fruit like peaches in one single painting. I'm working in that direction now.
TT:When was your "Aha!" moment that led your work to where it is now?
TA: When I started my career as an illustrator, my artwork was featured by a very talented and professional artist. It gave me a great boost or even a WOW effect! I knew that I have to continue my journey and improve my skills.
TT: How has your work (or technique) changed over time?
TA: I began painting with acrylic at first but changed over time. I found that I need to paint slowly layer by layer applying very transparent paint. I found myself in watercolor and still in love with it. I've tried different mediums like chalks, markers, oil but nothing can be compared to watercolor. It is a big secret, but my very new obsession is watercolor pencils.
TT: How do you promote yourself and your art?
TA: I promote myself through social media. It is a great platform for artists and especially illustrators to find desired collaborations and clients.
Tatiana Anisimova - Watercolor Pencils on A3
TT: Do you have any tips or advice for fellow artists based off of your experiences thus far?
TA: You have to be willing to make mistakes if you want to grow as an artist! Try different mediums, techniques and styles. I tried painting on cellulose paper without knowing that cotton is the best, I was ripping off my unsuccessful paintings (some of them my mom still showing to friends that makes me feel shy), I was painting landscapes, animals and insects…All those little paths help you to find yourself. I always recommend my students to make their art unique. Find "special" combinations of the colors, do not use premixed greens and browns. It takes time but letting you step to the next level, helping to find your own style. Learning never stops I say!
TT: What are you working on right now and why?
TA: I'm working on some floral trees, large and tricky paintings. How to paint cherry blossom with thousands of little flowers if you only have one piece of paper. What a challenge.
TT: What would you consider to be your "biggest achievement" with your work thus far?
TA: I guess my biggest achievement is far ahead, really. I'm a student, I have to explore a lot, I am an investigator or researcher. I want to achieve much more than I have at the moment.
Tatiana Anisimova - Watercolor Pencils on A3
TT: What was your first work of art that you were proud of? Where is it now?
TA: The very first drawings of my dog. I still keep it. I smile when I see those rough strokes. It is always good to see progress over time. But most of my paintings I throw away without even showing to someone.
TT: Do you take commissions? Why or why not?
TA: I do not take commissions. I had a few unlucky experiments and I gave up on it. Sometimes people do not know exactly what they really want and they're trying to change my style. But stop for second! You have chosen me as an illustrator for your book that means you like my work then you have to trust me otherwise it is better to find someone else. I offer people my existing painting and if they do not like I'm more likely to pass by.
TT: What do you do when you aren't working on artwork (hobbies, jobs, etc.)?
TA: I started biking over a year ago and now it is my daily practice. Snow days are the worst days for me when I cannot use my bike. Also, I love reading historical or bibliographic issues.
TT: What is an area in your work tha tyou feel weak in that you want to improve upon and how are you going to get there?
TA: I've tried different mediums and techniques. My out of comfort zone is to paint a large painting like my favorite old masters.
TT: How do you overcome art blocks?
TA: I am probably in that stage right now. Making a lot of mistakes and disappointing myself with every single painting. That's common to everyone in the world. It happens to me every year when I do not see where to go. But I know after the rain comes the sun and inspiration will come back again. What can I recommend? Do sketches, quick and emotional, do not expect too much, do not try to create masterpiece. Just make little steps and you find a big road to go or at least invent a new technique.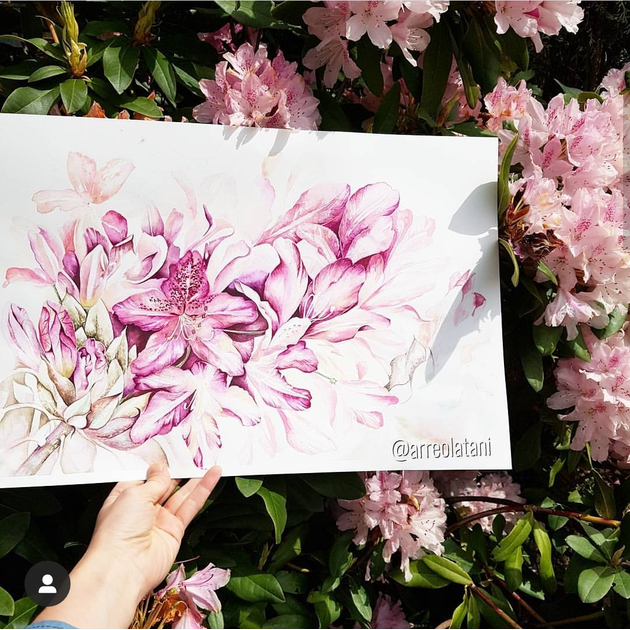 Tatiana Anisimova - Watercolor Pencils on A3
TT: Where do you see your work taking you in the next 5-10 years?
TA: 5-10 years? Are you serious? I do not like to make any planning. Every time I try to…it goes wrong (Life is always surprising). I can say that I would love to open my own studio, color the walls in my favorite teal blue, plant magnolias, wisterias and orchids for daily inspiration, teach classes and invite more and more talented artist for demos.
TT: Is there something that you would like to share with us that we have not covered, that pertains to you and your work?
TA: Working in art, I mean being an artist is not always accepted by family or friends. It seems that a "proper" profession is better. But I know architects, mathematics, bank managers, who break all the rules and became professional artists. I appreciate their brave soul! Artist it is not a profession it is lifestyle and daily excitement. Lead your heart and believe in yourself. Keep it up and never give up.
TT: Let us know where we can find your work!
TA: Instagram @arreolatani

All images provided by Tatiana Anisimova