Spotlight Artist Holly Hickerson
Thalo loves to promote artists and each month, we spotlight a member of our community!
This month we are pleased to have Holly Hickerson as the thalo Spotlight Artist for November.
Thalo Team: Can you give an "elevator pitch" of your work?
Holly Hickerson: I am a fiber artist that uses natural materials and different felting processes to create whimsical images depicting the playfulness of nature while accentuating the beauty of the process of felting.
TT: What is your artwork about and what do you want people to take from it?
HH: My artwork is about my relationship to nature and my imagination. My work is also about the process used to create the content. Felting is a process of binding fibers together to create one seamless piece. it can be done a few different ways. I try to explore all that through my work. Although the audience's views are not my main focus, I do want people to think about the relationship between art and traditional crafts.
TT: Which artists do you feel have influenced your art the most?
HH: Gea Van Eck, Anita Larkin, Kate Macdowell are just a few artists who have influenced me.
TT: Do you have a preferred method of presentation for your artwork and why? (Examples: workshops, gallery shows, Instagram, etc.)
HH: Instagram is proving to be a great method of presenting my work. Along with my online presence I do participate in traveling art and craft shows. Felting is rooted in traditional crafts so I can easily showcase my work at a craft show or in a gallery.
TT: Out of all of your creations (or bodies of work) which one did/do you find the most cathartic in creating?
HH: The piece that was the most cathartic to make would be my tree slice study. I worked over 10 hours forming raw wool fibers to try and resemble bark of a tree. It was my first piece created with both wet and dry felting. Wet felting is a very intense process of layering raw fibers and using hot soapy water to agitate them and binding them into one solid piece. I did that around a plastic template I created myself. That resulted in a piece of felt that resembled bark. I then needle felted on top of the felt with grooved needles and tiny strands of wool creating more texture and definition in the piece.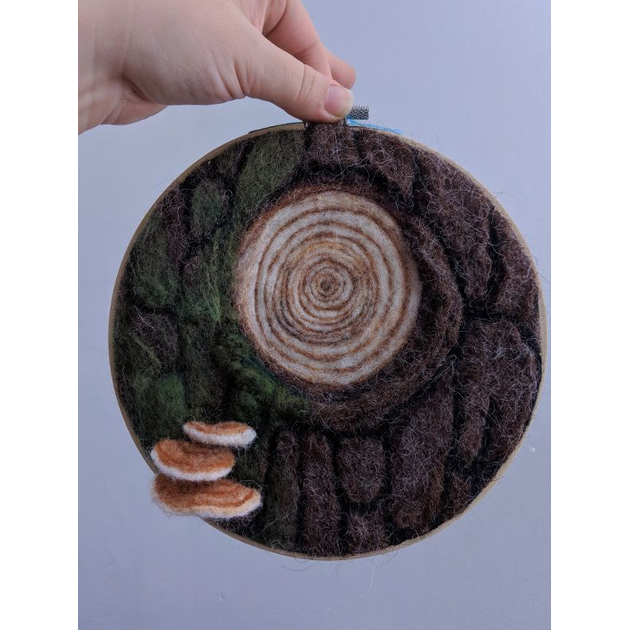 "Tree Bark"
TT: When was your "Aha!" moment that led your work to where it is now?
HH: This moment actually happened just recently in August of this year and I am still riding the wave of inspiration that was born from it. I had been experimenting with wet felting and dry felting for well over a year and felt my body of work was a bit all over the place. I then came up with the idea of combining my love for felting with my passion for illustration and thus began my series of felted embroidery hoops.
TT: How has your work (or technique) changed over time?
HH: My background is in illustration which is so vastly different from my current technique. I dabbled with felting in college but my main focus was drawing. Then about 2 years ago, I took time to really try and figure out what I wanted to pursue in my life, and that's when I found felting again. It was a challenge I set out for myself. Could I teach myself these techniques all on my own? I first taught myself how to wet felt. It will always be my favorite method though it is not my main felting method currently. It is a process that starts off so delicately as to not displace the fragile fibers and ends so brutally as you have to shock the fibers to have whatever you are create take its shape and "lock" into place. Starting off wet felting and transitioning into dry felting is kind of like learning how to drive a manual car before you drive an automatic. I have since simplified my work to be within the confines of embroidery hoops and have focused on dry felting, also known as needle felting, as my primary form of fiber agitation. This allows me to be more detail oriented while also combining my love for traditional illustration with my passion for felting.
TT: How do you promote yourself and your art?
HH: I use social media (mainly instagram) in a few different ways to promote myself and my art. Along with my professional instagram that showcases only my work, I have an artist blog instagram where I talk about my methods of trying to become a full time artist who works from home. I also participate in an artist collaborative known as The Red Fork Empire which has given me many opportunities to promote my work through their events.
TT: Do you have any tips or advice for fellow artists based off of your experiences thus far?
If you ever feel unhappy with the direction you, your life or your work is going in, don't be afraid to change something. It is really easy to be afraid of change. I personal struggled with the idea of change because I thought that my changing came from a place of failure. Like I had to fix myself or my work to make it better. I was so wrong. Really I just learned all I felt I had to and then changed or moved forward to excel at another aspect of my life and thus my work, and it always ended up being for the better.
TT: What are you working on right now and why?
HH: I am currently working on another series of felted embroidery hoop pieces that use all the felting techniques I have taught myself, along with adding elements of traditional embroidery to push the idea of combining both craft and fine art while staying whimsical in execution of the content I create.
"Jackalope"
TT: What would you consider to be your "biggest achievement" with your work thus far?
HH: Honestly, it might seem silly but my biggest achievement so far is that I can now say "I am a fiber artist" when asked "what do you do for a living?". It has been 2 years of working a day job while creating art and now I have dropped my hours of my "day job" amped up my work as an artist so that I can finally say my occupation is being a fiber artist. It actually feels like I am just now approaching the beginning of my career as an artist and I am so excited for everything that comes with it!
TT: What was your first work of art that you were proud of? Where is it now?
HH: When I was first experimenting with wet felting, I did a series of work I called my "glow pods" . It was a group of sculptures made from wool inspired by organic shapes like coral or beehives and the best part is, they all lit up! Wool is naturally flame resistant and the shapes gave the illusion the pieces were ceramic even though they glowed. It confused a lot of viewers in a beautiful way. I loved people reactions to the series. All the pieces in the series have since been sold to private collectors.
TT: Do you take commissions? Why or why not?
HH: I do! As of right now I take commissions for my felted embroidery hoop pieces! What I love about my work is the process of felting, and if I am able to work with a client and create something they have imagined, while being able to push myself in the process I use, why not? In the end, someone walks away with a piece of art I made that they love. Knowing my work is hanging in someone home is a really great feeling.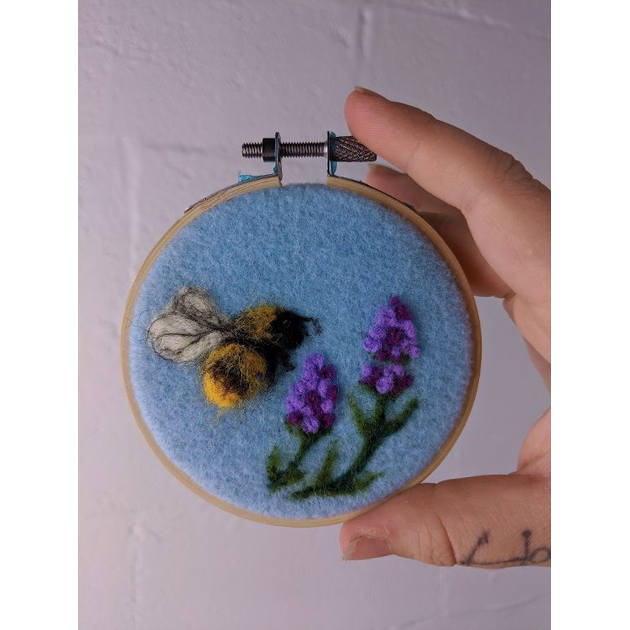 TT: What do you do when you aren't working on artwork (hobbies, job, etc.)?
HH: When I am not making art, I enjoy an array of activities such as yoga, hiking, and playing board games and dnd with my friends. The yoga and hiking help clear my mind in between long sessions of work and the games allow me to just play which I believe is one of the best forms of therapy anyone could do. I truly love to exercise my imagination anyway I can.
TT: What is an area in your work that you feel weak in that you want to improve upon and how are you going to get there?
HH: I think I can improve in almost every area of my work. I work to improve! It's kind of a never ending goal of mine. Right now though, I am focusing on improving the business side of my art and more specifically self promoting. It's what I do feel is my weakest link. It can be really hard putting yourself out there for all to see. Doing more things just like this interview, being louder about what I do and why, these are things I am doing to help me be a better boss to myself.
TT: How do you overcome art blocks?
HH: I don't have a foolproof method, but I find what helps for me and taking a step back. Getting away from my work and focusing my energy on something else like yoga or just going for a walk. Sometimes, you just need to force yourself to take a day off. To be ok with being blocked and letting it go to find piece of mind is one of the hardest things to do, but I have found it's exactly what I need to do to then come back refreshed. Most of the time I find new ideas while I am doing those other activities.
"A Serpent in the Stars"
TT: Where do you see your work taking you in the next 5-10 years?
HH: In the years to come I would love to show more of my art and do more workshops on felting. It baffles me that this art form is one of the oldest forms of textile making and it is really unknown to most people now. I love to talk about the methods behind my work. There is so much history to it the technique...It's just really meaningful to me.
TT: Is there something that you would like to share with us that we have not covered, that pertains to you and your work?
HH: I am happy to say I am working with a great team of artists and performers to transform the artist collaborative I am apart of into a non profit called The Red Fork Arts Collaborative. Our focus is to create opportunities for artists of any level or medium to show their work and communicate with other artists of different talents and backgrounds. Creating communities has always been something I love to do and especially in the art world where it can sometimes feel like you have to compete against like minded individuals.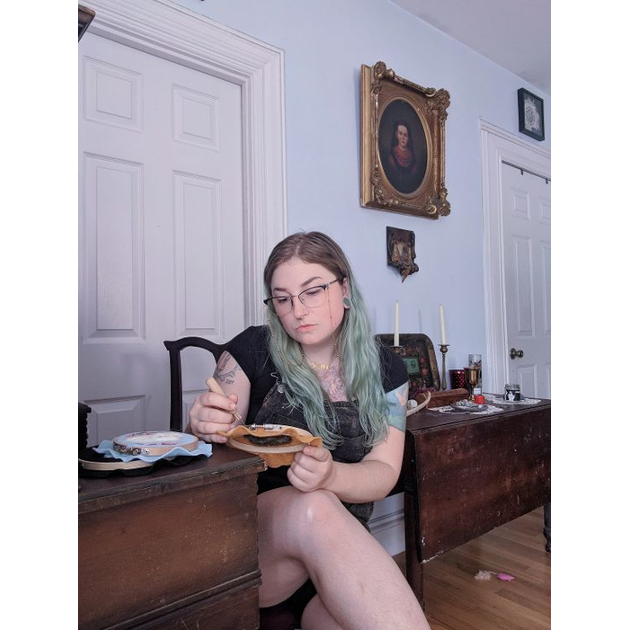 Be sure to check out Holly's works on her social media presence listed below:
www.faceboook.com/hornedharestudios
you can follow my art par on instagram @horned_hare_studios
and my artist blog on instagram @holly_ollie_oxen_free
I also have an instagram dedicated to my illustrations @thingshollydraws
and finally, you can find my current work for sale through my shop