Expanding Horizons: Wasteland Weekend
A Weekend in the Wasteland
You wake up to the sound of engines and burning gasoline. A furious, irradiated dust storm thunders in the distance as you forage for shelter and sustenance in the unforgiving, atomic landscape surrounding you. Your tribe has been driving for days to the one rusted oasis in the desert rumored to have any food and drink; with music, art and combat as entertainment. If any of this sounds like a fun afternoon for you, I would highly recommend a five day dose of the highest-octane post-apocalyptic meeting of creatives in the world: Wasteland Weekend!

Burning Man meets Borderlands. Carnival meets Night of the Comet? While difficult to compare; Wasteland Weekend can be best described as a festival for lovers of the Post Apocalypse. This immersive event takes place annually every September in the deserts of California. (September 26th-30th, 2018) and is heavily themed after such classic works of fiction as the Mad Max franchise, Fallout and Borderlands video game series and go as obscure as the 90's cult hit "Six String Samurai".

Averaging 2,500-3,500 attendees a year and growing, Wasteland Weekend is more than just a convention. Its creative fanbase spend countless hours making costumes, props, camp sites and even working vehicles that fit the environment and theming of the event. The organizers spare no detail to create a working city that looks like you were dropped in the middle of a desert town existing outside of civilization.
No need to worry about what to do in the desert at this event. Live Musicians, Art Galleries, a vehicular parade and games abound at the festival grounds. From a Thunder Dome to The Atomic Café, the themed activities are fit for all occasions. Games, bars, contests and more litter the weeklong programming list with freak shows and concerts lasting into the night.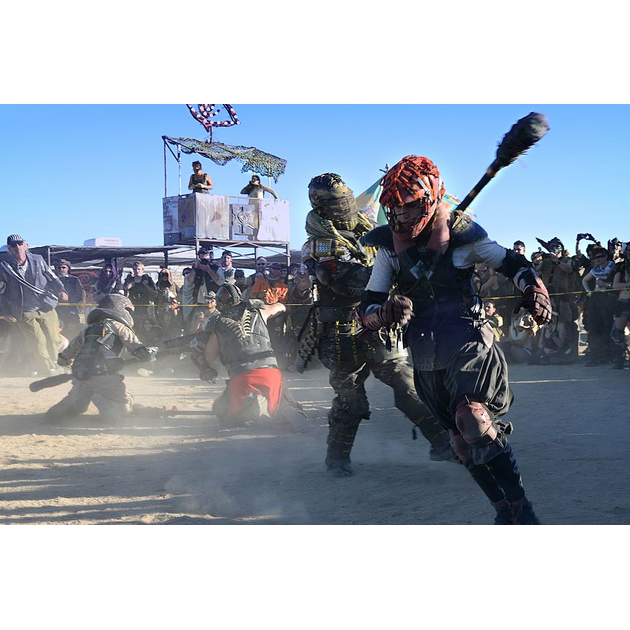 While the event is light spirited, it also requires a lot of responsibility. Preparing for five days in a harsh environment demands a lot of supplies, water, and food. The event staff has a myriad of instructional resources on how to make the best out of the event, from costuming tips to safety.
Given the visual vibrancy of the event, every year there is a highlight reel that makes the mainstream rounds after every festival. Here is a highlight reel of last year's Wasteland:
https://www.youtube.com/watch?v=qEzStQjD8SM
Wasteland Weekend's Official Site (with countdown timer and ticket options): http://www.wastelandweekend.com/
Photo and references:
https://en.wikipedia.org/wiki/Wasteland_Weekend