SPOTLIGHT ARTIST Randy Toroni
Thalo loves to promote artists and each month, we spotlight a member of our community!
This month we are pleased to have Randy Toroni as the thalo Spotlight Artist.
Thalo Team: Can you give an "elevator pitch" of your work?

Randy Torini: My name is Randy Toroni, I am a freelance concept artist and illustrator from California. My specialty is creating new worlds and the inhabitants that live there. For the past 5 years I have been building my own IP book Project Neo Tera and working for many different clients.
TT: What is your artwork about and what do you want people to take from it?

RT: My artwork is about pure raw creation from the mind. I Dig deep into my memories and experiences in my life and use the skills I've honed over the years to bring my dreams to life. I gravitate heavily towards creatures and technology with a heavy 90's anime influence. I want to make people feel excited for the future and what it holds. Growing up in the 90's I feel I am the last generation to experience what life was like before the internet and how that affected everything as I grew up with it. As a kid I played outside in the woods, built tree forts, but now technology has taken over.
TT: Which artists do you feel have influenced your art the most?

RT: Marko Djurdjevic, Jason Chan, Justin Coro Kaufman, Paul Kwon, Wes Burt. Marko was the biggest inspiration for me when I got into art school to become a concept artist. I saw his Massive Black video and it blew me away. His skills, his desire, his love for art awoken something wonderful inside of me, something that made me excited for the hard uphill battle to become a pro artist.
TT: Do you have a preferred method of presentation for your artwork and why? (Examples: workshops, gallery shows, Instagram, etc.)

RT: I have preferred Facebook and Instagram for the last 5 years. Facebook has been a wonderful place to share work because it's so easy and for awhile the art community was incredibly entrenched and connected, but I feel with the changes to FB over the years that something has been lost. Many agree with me.
TT: Out of all of your creations (or bodies of work) which one did/do you find the most cathartic in creating?

RT: Out of all my creations I think that Mecha Rengar was the one that I really felt great about. It was for a competition for Riot Games. I just remember working so hard because I wanted to win and prove myself to Riot Games that I was worthy, but I didn't win. I still love the painting I created though, brings me back to the feelings of reaching for the stars.
TT: When was your "Aha!" moment that led your work to where it is now?

RT: I remember specifically I had a giant shift in my skills and understanding of art back in the summer of 2008. I was drawing 5-10 hours a day in my sketchbook desperately trying to get better. Then it dawned on me that I didn't need to get the drawing right the first time, I just needed to plan it out with light gestural strokes, then put in dark lines when I knew it was what I wanted. That's when I became who I am. 2008.
TT: How has your work (or technique) changed over time?

RT: When I was younger I liked to draw with pen because I didn't like how pencil. I actually thought pencil was inferior to pen. But later after learning how to control the pencil strokes I found that pencil was incredibly versatile. I was also deeply obsessed with anime like DBZ, which held my realistic abilities down for a very long time. Not till I looked up to people like Marko did I start to change for the better.
TT: How do you promote yourself and your art?

RT: I promote myself and my art through social media mostly. Although my girlfriend and I are going to start going to exhibit at cons this year.
TT: Do you have any tips or advice for fellow artists based off of your experiences thus far?
RT: Know what you want. If you don't know what you want, then you will never get anything truly meaningful out of life. This means know exactly what you want your art to look like and then take the steps towards getting there day by day. Even if you are slowly doing it, you will eventually get there. So many give up and will never make it. Keep a good attitude, a bad attitude will destroy your motivation.
TT: What are you working on right now and why?

RT: Right now I am working on my intellectual property book, Project Neo Tera and my freelance client projects. My girlfriend and I are also going to be attending some future cons and are preparing prints, collectibles, and products to sell.
TT: What would you consider to be your "biggest achievement" with your work thus far?

RT: Wow, biggest achievement? That's hard to say, a big achievement to some is nothing to others, but for myself personally it's holding onto my prototype book for the first time. Something about holding 6 years of my life in book form makes me feel good inside.
TT: What was your first work of art that you were proud of? Where is it now?

RT: I rarely feel great about my work, I tear it down in my own mind as soon as it's finished. I always have this wonderful feeling for the paintings that have not been made yet in my head but a negative disdain for my finished works. My Mecha Rengar painting I still feel proud of though, it's the pinnacle of my efforts. It's actually shown at the Riot Games company in a slide show, happy it's seen by the team of a game I love.
TT: Do you take commissions? Why or why not?

RT: Yes I do take commissions. I am always open for business. Being a freelancer commissions are very important.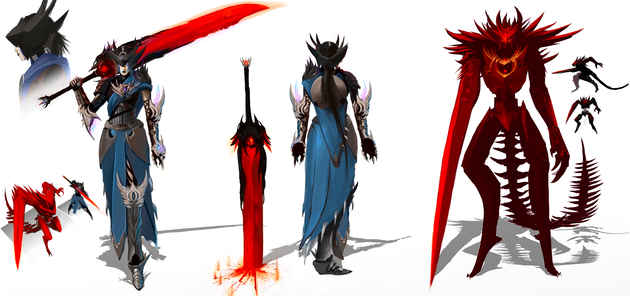 TT: What do you do when you aren't working on artwork (hobbies, job, etc.)?
RT: When I am not working on artwork, I am either playing video games, hanging out with my girlfriend and cats, exploring the beautiful forests in northern California, or traveling the world. It's important to have a balanced life. It helps my art when i go back to the drawing table that I have more going on in my than just my art. Our art is a product of what we do, and I do allot.
TT: What is an area in your work that you feel weak in that you want to improve upon and how are you going to get there?

RT: I want to be able to improve my paintings quality so they get closer to my own standards, so I can feel better about my work. I also want to continue to grow as a concept designer and make designs that nobody has seen. That's the beauty of concept design, I can create things that are a template for something real, that can be made. I love it!
TT: How do you overcome art blocks?

RT: I don't believe in art block. I used to have problems where I felt like I was "having a bad art day" or something along those lines, but now I know that it's not real. The truth is in order to create consistent great work you must have a strong process. With a strong fundamental system you can avoid art block issues, because your process gets rid of what causes bad art days. If your not feeling like making art then that's just you not wanting to do art, go do something else.
TT: Where do you see your work taking you in the next 5-10 years?

RT: I see myself in the next 5-10 years making more books and working on some big name video game or movie projects. Who knows though, the future has so many possibilities.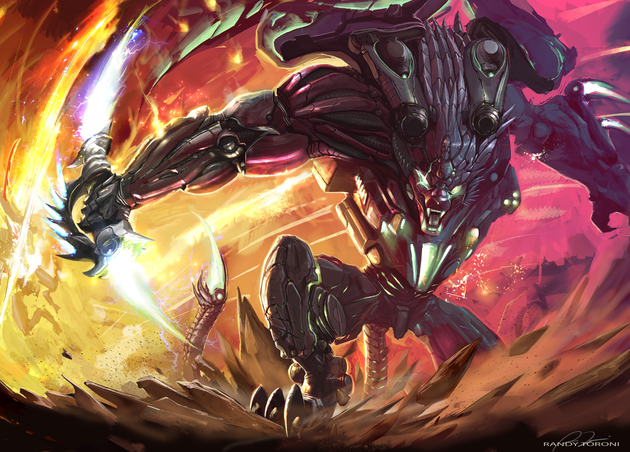 TT: Is there something that you would like to share with us that we have not covered, that pertains to you and your work?

RT: I am classically trained in traditional media, but I mostly work digitally these days. I am trying to find ways to make something traditional when I can. There is something beautiful about having original pieces of artwork that digital cannot replicate.
Want to see more of Randy's work? Check out his stuf thorugh the links below and connect: