SPOTLIGHT ARTIST Ruth Sanderson
Thalo loves to promote artists and each month, we spotlight a member of our community!
This month we are pleased to have Ruth Sanderson as the thalo Spotlight Artist.
Thalo Team: Can you give an "elevator pitch" of your work?
Ruth Sanderson: I like to bring imaginary worlds peopled with imaginary characters to life. This covers the personal work I create as well as my children's book illustration. I want to tell a story with every picture I draw or paint, and create an emotional connection with the viewer. I would define my preferred art style as Imaginative Realism.
TT: What is your artwork about and what do you want people to take from it?
RS: In my personal work as opposed to my illustration, I explore themes that interest me, for instance— the turn of the seasons. I approach this with symbol as opposed to doing a realistic landscape. My picture entitled "Spring" is a personification of that season, with a mythical depiction of spring as a maiden with a glowing staff, and as she passes over the winter landscape, the earth sends up spring blossoms. Depicting change in a static picture is an interesting challenge. And Change is one aspect of life that we cannot avoid, and the cycles of life and death are great mysteries to ponder.
Spring
Oils on canvas. 24x28
TT: Which artists do you feel have influenced your art the most?
RS: I have always admired the English Pre-Raphaelities for their mythic themes and beautiful paintings. I love the landscapes of the Hudson River School. The illustrators Rockwell, Pyle, and Wyeth have always been favorites too. That's the short list!
TT: Do you have a preferred method of presentation for your artwork and why? (Examples: workshops, gallery shows, Instagram, etc.)
RS: I have been lucky to have a 40-year history of published children's books, and I feel they are equivalent to having many galleries of artwork, ones that will be available long after I am gone. I also am represented by the Michelson Gallery in Northampton, MA, and I exhibit my originals at Science Fiction and Fantasy conventions, as well as Illuxcon, a show of Imaginative Realism every fall in Reading PA. There is also an art book on my career---GOLDEN DREAMS, the Art of Ruth Sanderson.
TT: Out of all of your creations (or bodies of work) which one did/do you find the most cathartic in creating?
RS: I painted a portrait of my youngest daughter a number of years back when she was going through some emotional difficulties. The picture is entitled "Fragile," and speaks to our fragile condition as human beings. Doing this painting helped to remind me every day to be grateful for all the good things in life, because life is too short, even if you live to old age.
Fragile
Oils on Masonite panel 30x40
TT: When was your "Aha!" moment that led your work to where it is now?
RS: I have had a few "Aha" moments during my career. The most recent one was when I started the scratchboard illustrations about 7 years ago for THE GOLDEN KEY, a Victorian fairy Tale I had always wanted to illustrate. I had only done one or two other scratchboards in my life, but somehow I knew this was the right medium for this project. When I completed the first picture, I went "Aha!" —I am really on to something here, this is the medium I have been searching for. It combines my love of depicting light with my love of drawing. "Descent" is in the gallery section here.
TT: How has your work (or technique) changed over time?
RS: I started doing children's illustrations in so many different mediums, but switched to oils after getting the assignment to illustrate an edition of HEIDI. I wanted it to look like the paintings could have been done in 1850 when the story was written. I have always loved the Academic schools of art. I went on to illustrate many fairy tales in this romantic, realistic style. Recently I have done books in watercolor, gouache, and scratchboard. And I have changed my style to suit each project. The factor that ties all my work together is the sense of light, I feel.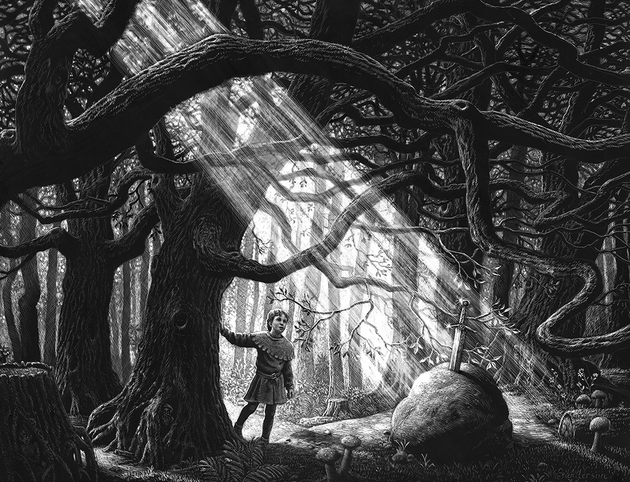 Sword in the Stone
Scratchboard 16x20
TT: How do you promote yourself and your art?
RS: I go to conventions, show in galleries, and I have an online presence on Facebook and Instagram. I also have started putting out coloring books for adults based on my children's illustrations, and have gained a nice following in Facebook coloring groups. I also create colored pencil tutorials on YouTube. And I have a website and send out quarterly newsletters.
TT: Do you have any tips or advice for fellow artists based off of your experiences thus far?
RS: I suggest having your fingers in many different pies, and not to be afraid to try new ways to get your work in front of the public.
TT: What are you working on right now and why?
RS: I am working on a bookcover in scratchboard called Snow White Learns Witchcraft by Theodora Goss.
Heart of the World
Oils on Canvas 28x38

TT: What would you consider to be your "biggest achievement" with your work thus far?
RS: My biggest achievement? That would have to be having had the privilege of my fairy tale art being exhibited in a one-woman show at the Norman Rockwell Museum.
TT: What was your first work of art that you were proud of? Where is it now?
RS: My very first oil painting was the head of a horse, and I was very proud of it, at about age 14 or so. It is in a box in my basement with some of my childhood and art school pictures.
Fall Faerie
Oils on Canvas 24x36
TT: Do you take commissions? Why or why not?
RS: I do take commissions, in scratchboard. I recently did a picture of Young King Arthur and The Sword in the Stone.
TT: What do you do when you aren't working on artwork (hobbies, job, etc.)?
RS: I am a voracious reader—mostly fantasy novels and historic fiction. I am reading Pillars of The Earth right now, as I am currently writing a fantasy novel called The Dwarf's Tale, a retelling of Snow White, set in the Middle Ages. I like taking walks, and visiting museums. I also teach illustration and writing at the MFA in Writing and Illustrating for Children at Hollins University in Roanoke Virginia, every summer for 6 weeks.
Descent
Scratchboard 12x16

TT: What is an area in your work that you feel weak in that you want to improve upon?
RS: I would like to explore using more textures in my work.
TT: How do you overcome art blocks?
RS: I never have experienced an art block.
TT: Where do you see your work taking you in the next 5-10 years?
RS: I'd like to illustrate a few more children's books, and keep exploring the medium of scratchboard for personal work.
Invoking the Dragon
Scratchboard 12x16
TT: Is there something that you would like to share with us that we have not covered, that pertains to you and your work?
RS: I work on greeting cards, tins, puzzles, and other products. I am not ashamed to call myself a "commercial artist." Art is art, and if you can sell reproduction rights to an image, that does not make it somehow a lesser form of art. I like the fact that my images are seen by many more people than if I only created original art to sell. I love being an illustrator—I feel it is a noble profession.
Check out more of Ruth's works and keep up with her art thorugh these:
Website: http://www.ruthsanderson.com
Etsy: https://tinyurl.com/guecnpv
Twitter: https://twitter.com/RuthLSanderson
Instagram https://www.instagram.com/ruthsandersonart/
Pinterest: https://www.pinterest.com/ruthlsanderson/