SPOTLIGHT ARTIST Isabella Kung
Thalo Team: Can you give an "elevator pitch" of your work?
Isabella Kung:I am a children's book author/illustrator and an educator from San Francisco. I have a great deal of love for telling stories with my art and enjoy creating magical worlds that'll connect with audiences of all ages. I also like to do a lot of exploration and experimentation with my personal work. Currently, I'm working on a series called "Cat Inkling", which I hope to exhibit as a gallery show in the future.
TT: What is your artwork about and what do you want people to take from it?
IK: My artwork subject matter can change from project to project, mostly based on each client's needs. I've painted gentlemanly cats to astronauts eating pizza... Whatever that can help audiences be completely immersed in the story.
Kite Surfing, watercolor, pen and ink
TT: Which artists do you feel have influenced your art the most?
IK: There are simply too many! Just to name a few: LeUyen Pham, Peter De Seve, Carter Goodrich, Julia Sarda, Roald Dahl, Nathan Fowkes, Carson Ellis...
TT: Do you have a preferred method of presentation for your artwork and why?(Examples: workshops, gallery shows, Instagram, etc.)
IK: My website isabellakung.com will be the best way to see my overall work and portfolio. From there it will link to all of my social media accounts as well as my Etsy store and Youtube Channel. Instagram: @isabellakungill is great for checking what I am up to recently. Gallery shows are the best place to see my work up close, but those are generally temporary exhibitions.
TT: Out of all of your creations (or bodies of work) which one did/do you find the most cathartic in creating?
IK: It will have to be my "Kite Surfing" piece. It is one of the most challenging paintings. There are lots of different components to the piece; many figures and a large range of colors; which took a bit of careful planning from design to execution. Not only was it satisfying to complete, it was an honor for that piece to be accepted as Society of Children's Book Writers and Illustrators Spring Bulletin cover.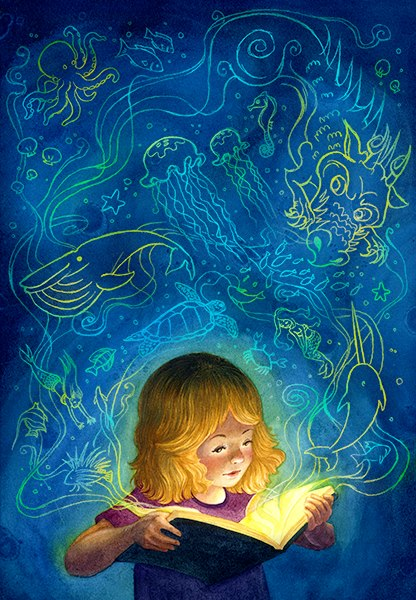 Magical Read, watercolor, pen and ink
TT: When was your "Aha!" moment that led your work to where it is now?
IK: When applying to Academy of Art University, I've already knew I wanted to major in illustration. Though I had no clue what industry to focus in, until the end of my second year of education. That's when I fell in love with watercolor and creating narrative illustration. From there, the children's book industry was just a no-brainer!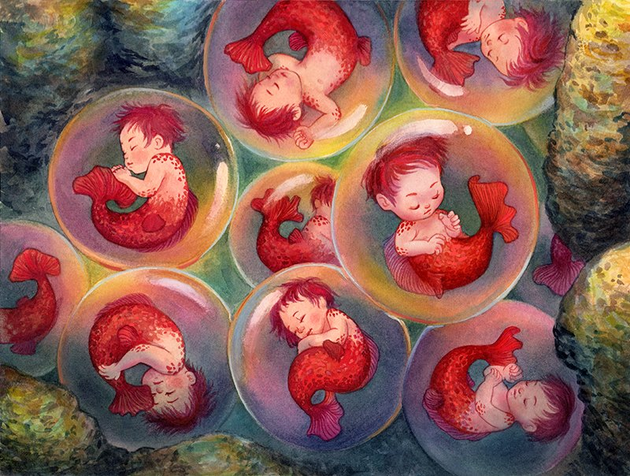 Merbabies, watercolor, pen and ink
TT: How has your work (or technique) changed over time?
IK: For one I've gotten a lot faster and confident with watercolor, being an instructor gives me lots of practice, especially during demos. Along with the personal exploration I do with other mediums, I am able to do more mixed-media and open up my choices.
TT: How do you promote yourself and your art?
IK: Instagram, Cons and Fairs, and I still send snail mail postcards to publishers.
TT: Do you have any tips or advice for fellow artists based off of your experiences thus far?
IK: Perseverance. Having a career as an artist is not easy, and we do it because it is a labor of love. If you are doing this for the money or because you think it will be easy, then you are doing this for the wrong reasons.
TT: What are you working on right now and why?
IK: Right now, I'm busy creating inventory for the SF Etsy Indie Holiday Emporium, I have a booth there during the Thanksgiving weekend. After that, I'll be working on paintings for a gallery show San Francisco and Singapore, as well as spend some time on my own stories.
TT: What would you consider to be your "biggest achievement" with your work thus far?
IK: Winning the Best in Show at the SCBWI Golden Gate Conference in 2016.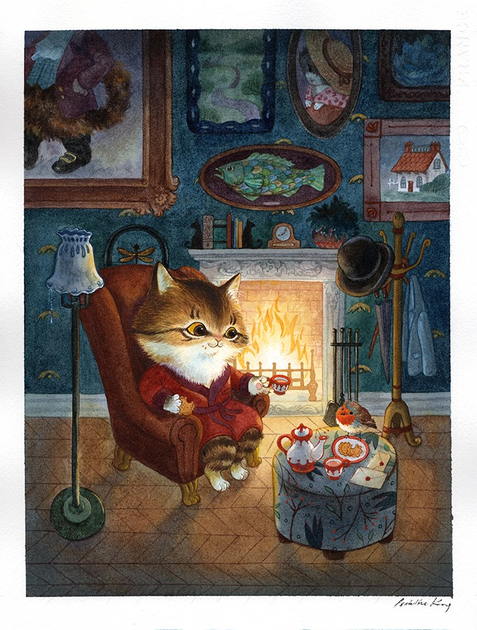 Tea and Biscuits, watercolor, pen and ink
TT: What was your first work of art that you were proud of? Where is it now?
IK: I remember being really proud of color pencil drawings I did in elementary school, it had a gold star and everything, haha. Sadly, I don't think my mother kept any of those.
TT: Do you take commissions? Why or why not?
IK: Yes, I do. Artists have bills to pay too! Plus sometimes, it is nice to work on a variety of projects and enjoy new challenges.
TT: What do you do when you aren't working on artwork (hobbies, job, etc.)?
IK: I love cuddling with my cats and catch up on my favorite TV series / movies, going to museums, hiking, and if able, travel and explore this marvelous world.
TT: What is an area in your work that you feel weak in that you want to improve upon and how are you going to get there?
IK: My writing skills, and I believe the only way to get better is reading and writing more. I'm looking into writing workshops as well.
Chester Goes to the Opera, watercolor, pen and ink
TT: How do you overcome art blocks?
IK: For me, artblocks can be caused by a few different reason, either I'm burnt out and just need a break. Or I could be indecisive and intimidated by the work that is in front of me. In this case, the best thing I could do is stop worry, eliminate all distractions and dive in. I find that the first step is often the hardest, but once I get going, things come pretty intuitively.
TT: Where do you see your work taking you in the next 5-10 years?
IK: I've illustrated about 5-6 books so far. I hope to accomplish more, collaborate with a few dream publishers as well as authors. I also hope my own stories will be picked up and published too.
TT: Is there something that you would like to share with us that we have not covered, that pertains to you and your work?
IK: If you are curious about my process, I upload a lot of my time-lapsed process on my youtube channel : youtube.com/isabellakung
TT: If you have links for your website, Facebook page, Instagram, Twitter, etc. that you would like to share, please include these addresses below.
Website:
Instagram @isabellakungill:
https://www.instagram.com/isabellakungill/
Facebook:
https://www.facebook.com/isabella.kung.18
Twitter @isaberryk
Tumbler:
http://isabellakung.tumblr.com/