SPOTLIGHT ARTIST Casey Desilets
Thalo loves to promote artists and each month, we spotlight a member of our community!
This month we are pleased to have Casey Desilets as the October thalo Spotlight Artist.
Thalo Team: Can you give an "elevator pitch" of your work?
Casey Desilets: I'm a storyteller that has a deep need to use both the power of visual arts and the written word. Born and raised in Western Massachusetts, I'm currently building my creative career in the San Francisco bay area. I don't like to pigeonhole myself into any one title as an artist, but I think Illustrator fits the description the best. I juggle between fine art, writing, illustration, cartooning, and comics.
TT: What is your artwork about and what do you want people to take from it?
CD: My artwork tends to go from light hearted and silly, to dark very quickly. Everything I do I like to have some different message attached for myself, even if I don't share it openly. I think it's a good thing to embrace some of humanities more macabre and evil aspects with art and humor. I find it immoral to completely hide them and not speak of them at all.
"CurceProof" Web Comic Cover, Digital
TT: Which artists do you feel have influenced your art the most?
CD: Though I tend to spend a good amount of my time painting, the majority of my influences are animators, illustrators and comic artists. Mary Blair, Mike Mignola, Dr. Seuss, Fiona Staples, Kentaro Miura
TT: Out of all of your creations (or bodies of work) which one did/do you find the most cathartic in creating?
CD: I would say my current personal project Curseproof has been the most relieving. Every time I've been able to finish and post a page up, it feels like I'm finally doing something just for myself. The most fun has been the series of paintings with apes and monkeys in fancy outfits, they're quick, colorful, and I'm entertained as I create them.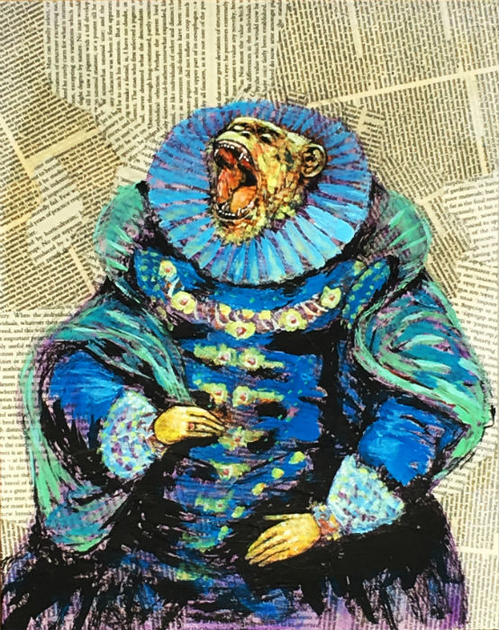 Untitled Approx. 9x12" ,Collaged book pages, Ink, Acrylic

TT: When was your "Aha!" moment that led your work to where it is now?
CD: With my illustrative work, I believe it started to come together after I got a chance to take a class with local artist Mark Simmons. Mark definitely helped push me towards a more cohesive style.
TT: How has your work (or technique) changed over time?
CD: Painting I always had the tendency to work incredibly thin with my paint. Whether it be oils or acrylics, I believe it came from my starving artist mentality of conserving paint. Out of it though I've been able to take advantage of the translucency of the mediums to do some really playful layering on top of other media. My illustrative work has been headed more in a darker graphic direction. Using more shape and brushwork to create my images, instead of pure line work.
"Black Satan" Comic Book Page, Digital
TT: How do you promote yourself and your art?
CD: Most of my promotion work revolves around using social media. The rest of the time I usually try and do more group shows, and table artist alleys at conventions.
TT: Do you have any tips or advice for fellow artists based off of your experiences thus far?
CD: My advice is to never be comfortable with where your work is. I am constantly looking for the next thing to work on and in improve in. Also, if an offer sounds too good to be true, probably is. There's far too many people who will try and take advantage of you as an artist. Learn as much as you can about writing better contracts to protect yourself.
"General" Approx. 9x12" ,Collaged book pages, Ink, Acrylic

TT: What are you working on right now and why?
CD: Right now I'm working on a personal web comic called Curseproof. It's something I'll be trying to regularly update for free. It's a project I've specifically wanted to do for years, because I wanted to start my own world, that would force me to really push my technique, and creativity.
TT: What would you consider to be your "biggest achievement" with your work thus far?
CD: I think currently my biggest achievement was getting a comic in an upcoming anthology called Not Forgotten. It's just a short story in a larger collection, but It was amazing to work alongside some other great up and coming artists. The success of the Kickstarter, and all the positive feedback we got, really gets me excited to keep working harder.
Untitled, Digital
TT: What is an area in your work that you feel weak in that you want to improve upon and how are you going to get there?
CD: Right now my weakness is definitely in my environment and background work. I have a natural draw towards characters, so I need to force myself to go back and actually ground them in a believable world. Definitely going back and working on my plein air painting, and continued study of perspective will be my work out for strengthening that.
TT: How do you overcome art blocks?
CD: With art blocks I really just find it best to step away completely from the projects. Whether that means working on something else for a little bit, or just getting out of the studio. Keeping up on self care is something I think a great many artists quickly let fall behind. Getting fresh air, working out, visiting friends, or just vegetating are necessities.
"Hoggoth" Approx. 9x12" ,Collaged book pages, Ink, Acrylic
TT: Where do you see your work taking you in the next 5-10 years?
CD: I'm hoping my work will help me become more self sustained. Right now, I continue to work some day jobs to supplement the high cost of living in the bay, and work on my unending student loans. I think the goal is to one day be able to live comfortably on just my personal work. Definitely looking forward to more published work and more gallery shows within the next 5 years.
TT: Is there something that you would like to share with us that we have not covered, that pertains to you and your work?
CD: Definitely wanted to share that if you're in the bay area this October, check out the H.P. Lovecraft show I'm a part of at The Loin art gallery in San Francisco. Also, be sure to follow on social media for all the updates on my personal project Curseproof, which you can read free on www.curseproof.com.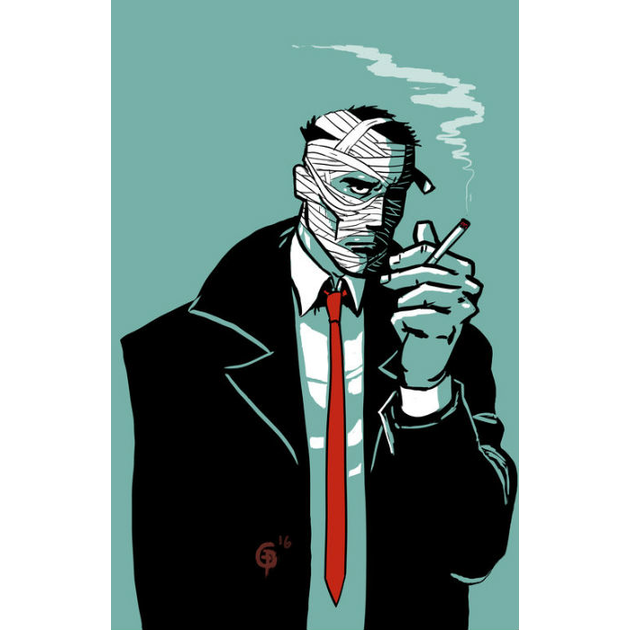 "The Man With the Getaway Face" Digital
T: More of Casey's work can be seen at: