SPOTLIGHT ARTIST Amanda Putnam
Thalo loves to promote artists and each month, we spotlight a member of our community!
This month we are pleased to have Amanda Putnam as the June thalo Spotlight Artist.
Click here for the spotlight archives!

THALO TEAM: Can you give an "elevator pitch" of your work?
Amanda Putnam: I am a children's book/Young Adult fantasy Illustrator. My main focus right now is animals (with more to come), and fantastical creatures. All my work is done with watercolor, pen, and ink.
TT: Is there a common theme throughout your work? Is there something you want your artwork to convey to people who see it?
AP: I wouldn't say I have a theme for my work. I focus mainly on children and their interactions with their imaginations (even if the child is an animal character). The term 'imagination,' isn't so much a literal term but an overall term repeated to something fantastical that is realistically part of their lives. Personally, I work better off of other's writings and prompts.
'Can I Keep It?' watercolor, pen, ink, 10x16"
TT: Which artists do you feel have influenced your art the most?
AP: HANDS DOWN John Howe and Tony Diterrlizzi are my biggest influences. At a very young age I got the courage to contact John Howe for advice on my work, and to my surprise, he took the time out of his LOTR schedule to answer my questions. In terms of Tony, his work has put Middle grade on the market, and his advice and instruction is always cherished!
TT: Imagine you got to design your perfect Gallery Show. Tell us what it is!
AP: Horses, Dragons, Knights, Heroines, Monsters, Fairies, Satyrs, and the like everywhere! I would say my gallery space would be filled with everything fantastical, and probably me riding around on a horse greeting people!
Satyr, watercolor, pen, 16x20"

TT: Out of all of your creations (or bodies of work) which one did/do you find the most cathartic in creating?
AP: I personally feel that any of my works with a horned creature or horned garb, brings to mind that calmness I seek in working. It allows me to explore form, shape, and exploration of expression since horns can be twisted, straighten, or even bent in so many ways, it is endless! And drawing horses, lots of horses!
TT: How has your work (or technique) changed over time?
AP: Well I started using Grumbacher Finest watercolors over 10 years ago. I wasn't confident with the medium (mudded color, light washes, value was unreadable); my lack of understanding showed. It wasn't until I went to earn my MFA in Children's book Illustration at the Academy of Art. It was there I was pushed beyond my limits and learned to understand my style and my medium.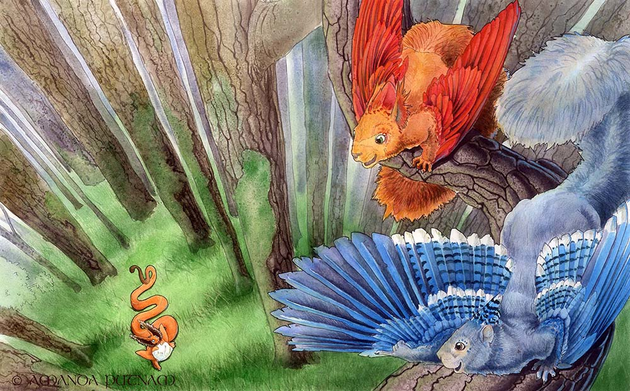 Meelo Meets the Forest Creatures, watercolor, ink, pen, 11x22"
TT: How do you promote yourself and your art?
AP: I keep working! I put time into my career to become the artist I need to be. I send out postcards to publishing companies, I go to SCBWI conferences, I sell my work, I post on social media, AND I keep working on new products/subjects every year. As an artist, you should keep your portfolio growing. Doing that keeps your work fresh and current, showing the industry what they are missing.
TT: What project are you working on currently? What are you most looking forward to with your work this year?
AP: Currently, I am working on creating a series of illustrations based off of "Narnia: The Lion, the Watch, and the Wardrobe" by C.S. Lewis. This book has been a huge inspiration for me, and I finally feel I have the skill level to bring to sight how I feel the characters, scenery, and the book itself should look like. I have done some paintings on this novel before, but they were not 'there' yet.
TT: What is your favorite medium to work with, or what medium brings you the most satisfaction to use?
AP: I love watercolors no matter what! Compared to all other mediums I have tried, watercolors give me the ability to understand what I am trying to paint without putting so much energy into it (like oils and acrylic, which I cannot stand). Watercolors give you that natural looseness that is so hard to achieve in all other mediums.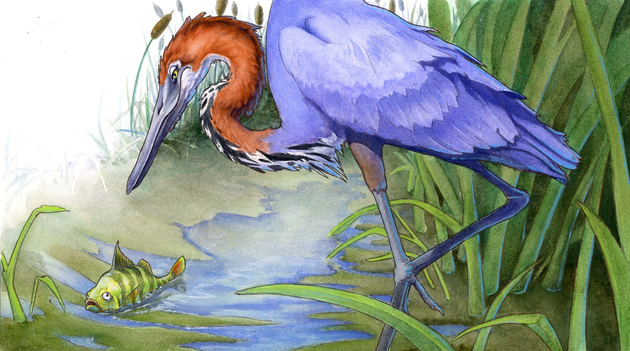 The Heron, watercolor, pen, ink, 10x16"
TT: What would you consider to be your "biggest achievement" with your work thus far?
AP: My biggest achievement would be that I can finally look at my work and say, "Yes, I have professional level illustrations." With the extremely heavy work load from my MFA program, I was able to work through ALL my weaknesses and bring to the table something I can finally be proud of. Yet, I still feel there is much more to do, I am not a Master yet, but that won't stop me from getting there!
TT: What was your first work of art that you were proud of? Where is it now?
AP: My first piece of work I was proud of was my very first drawing of my character Meelo, sitting on his rune. I painted him 6 years ago after a long artist block that disabled me from being able to draw anything (just couldn't draw!). He got me out of my block and that piece lies in my portfolio as a reminder. After years of drawing, I was finally able to bring him to how I see him today.
TT: Do you take commissions?
AP: I do! If it doesn't take up too much of my time and dedication needed to grow my portfolio (unless it is a portfolio quality piece). I do this because many people admire my sense of color and story telling, which brings smiles to their faces. This brings me satisfaction knowing my work has such a positive impact. I even sell prints to those who want to support me on a budget!
The Fox and the Boar, watercolor, pen, ink, 10x16"

TT: What do you do when you aren't working on artwork? What are some of your hobbies/passions other than art-making?
AP: Even when not focusing on my art, I focus on learning from other artist, reading their work, drawing from their books. I am always seeking ways to grow as an artist! Other than that, I love to hike and explore small towns with my husband and, last but certainly not the least, horseback riding when a friend is able to lend a horse my way!
TT: Is there something that you would like to share with us that we have not covered, that pertains to you and your work?
AP: As an artist that is just starting out professionally, there is a lot of competition out there. I looked at my work recently and had an 'AHA!' moment. A thought I always lived by but never had words for: "There are illustrators out there better than me, I need to be better than them." If you don't strive to be better and work for it, you won't get there. DRAW ALL THE TIME, EVERYWHERE, NO MATTER WHAT!!!
TT: More of Amanda Putnam's work can be seen here:
thalo profile: http://www.thalo.com/profile/view/amandaputnam

Website: http://www.amandaputnam.com/
Instagram: aputnam_illustration
Facebook: Amanda Putnam-Palmer