The Heckscher Museum of Art Presents Mort Künstler: The New Nation Open December 10, 2016 to April 2, 2017
Huntington, NY – The extraordinary history of the United States is brought to life in a vibrant new exhibit depicting the new nation's birth. Mort Künstler: The New Nation traces the founding of our country with exquisite detail by artist Mort Künstler, renowned for his evocative portrayal of American history. Featuring 32 of his most recent works, Mort Künstler: The New Nation opens December 10, 2016, at the Heckscher Museum of Art, and runs through April 2, 2017.
The noteworthy exhibit outlines the expansive story of our country's birth, from settlement through the Revolutionary War, to the inauguration of George Washington. Already known as "America's Civil War painter," Mr. Künstler has devoted his career to the entire swath of American history. His paintings are characterized by factual accuracy and emotional depth which bring new insight to iconic historical images such as Washington's 1776 crossing of the Delaware River and the reading of the Declaration of Independence.
"I want people looking at the paintings to feel like they are there," said Mr. Künstler. "Since the first painting I did of this time period – Reading the Declaration of Independence to the Troops – I have wanted people to enjoy the work and then learn something in the process."
Mr. Künstler's pictures have been exhibited in museums throughout the country, and his paintings are the subject of books and a documentary film. The U.S. Postal Service issued a stamp using his Civil War painting Buffalo Soldiers. Mort Künstler: The New Nation captures the artist's unique vision in interpreting the American Revolution. The artist will share his insights at a gallery talk and book signing on January 12, 2017 at 7 P.M. at the Heckscher Museum of Art.
Funding for Mort Kunstler: The New Nation is provided by Mr. and Mrs. Charles F. Dolan; the Rapaport Shallat Foundation; The Steven A. Klar Foundation; Frank Lourenso & Gary Stevens -- Morgan Stanley Wealth Management; and the Henry Luce Foundation Directors' Discretionary Grants program at the request of Thomas L. Pulling.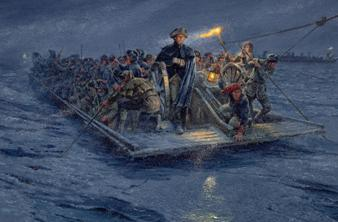 Mort Künstler, Washington's Crossing, 2011, Oil on Canvas
Included in the exhibit is Mr. Künstler Washington's Crossing, which reimagines an iconic moment in history. The painting is widely considered to be a more factual rendering of the event, showing Washington on a flatboat ferry in a blinding snowstorm.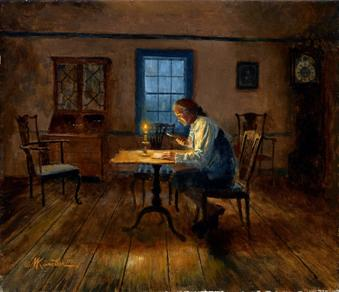 Mort Künstler, The Culper Spy Ring, 2013, Oil on Canvas
The Culper Spy Ring depicts patriot Robert Townsend reading an encrypted letter at his house in Oyster Bay, Long Island, coincidently Mr. Künstler hometown. "This is close to my heart," Mr. Künstler noted. The house, Raynham Hall, is now a historical site. A second picture by Künstler, Sally's Valentine, shows the outside of the house.
Related Program: Meet the Artist
Gallery Tour and Talk with Mort Künstler, Thursday, January 12, 2017, 7:00 pm – 8:30 pm. Members Free, Non-Members $5. The Heckscher Museum of Art
Enjoy an intimate conversation with the preeminent painter of American history, Mort Künstler. Surrounded by Künstler's artwork and works from his private collection in the Museum's exhibitions, The New Nation and Norman Rockwell and Friends: American Illustrations from the Mort Künstler Collection, the artist shares stories behind his historical works and his collecting vision for the extraordinary collection representing the Golden Age of American Illustration. (Inclement Weather Date: January 19)
Also on View:
Norman Rockwell and Friends: American Illustration from the Mort Künstler Collection showcases his discerning talent as a collector of iconic artwork from Norman Rockwell, J.C. Leyendecker, Maxfield Parrish and more. Encompassing 75 paintings and sketches acquired over decades, this is the first time this private collection is on public view. Norman Rockwell and Friends: American Illustrations from the Mort Künstler Collection remains on view through March 5, 2015
Synapses: Threads for Thought presents over two dozen works from the Museum's collection as a thread of diverse connections. Paintings, prints, and photographs are arranged so that each work links to those that precede and follow it. Works range from a late 16th-century Annunciation and George Grosz's Eclipse of the Sun to abstractions by Arthur Dove and photographs by Larry Fink. Synapses: Threads for Thought remains on view through April 9, 2017.
About The Heckscher Museum of Art
The Heckscher Museum of Art, founded in 1920 by philanthropist August Heckscher, is located in scenic Heckscher Park in Huntington, New York. Through its exhibitions and related programs, the Museum provides inspiring and transformative experiences to encourage a broader understanding of the past and present and to enrich life-long learning. The Museum's collection comprises more than 2,500 works from the 16th to the 21st century, including European and American painting, sculpture, works on paper, and photography. For information about The Heckscher Museum of Art, visit Heckscher.org.
Museum Hours
Wednesday - Friday | 10:00 am - 5:00 pm *
Saturday and Sunday | 11:00 am - 5:00 pm *
Monday and Tuesday | Closed
*Huntington Township Residents admitted FREE Wednesdays after 2:00 pm and Saturdays before 1:00 pm. Proof of residency required.
Free Admission for Active Military Personnel, Veterans, and Family
Available to any bearer of a Geneva Convention Common Access Card (CAC), a DD Form 1173, a DD Form 1173-1, a Veteran's DD-214, or a Veteran ID card and a driver's license. Includes active military personnel (Army, Navy, Air Force, Marines, Coast Guard, National Guard, and Reserve) or Veteran and up to five (5) family members (spouse, child, aunt, uncle, grandparent, etc.)
Accredited by the American Alliance of Museums (AAM) since 1972.