SPOTLIGHT ARTIST Rachael Bridge
Thalo loves to promote artists and each month we spotlight a member of our community!
This month we are pleased to have Rachael Bridge as the thalo Spotlight Artist.
THALO TEAM: Can you give an "elevator pitch" of your work?
RACHAEL BRIDGE: I grew up in the small town of Clinton, which is located in upstate NY. I received my BFA in Fine Arts from Pratt Institute in Brooklyn, NY back in 2010. I now live in and work in Delanco, NJ which is about 30 minutes outside of Philadelphia. My oil paintings are mostly portraiture-based.
TT: Is there a common theme throughout your work? Is there something you want your artwork to convey to people who see it?
RB: My work definitely has an ongoing dark and melancholy theme. It's something I think everyone can relate to because being alive is hard and scary whether we want to admit it or not. It's relieving to realize that we are all in the same boat and you are just as terrified as the next person. So, if the work connects on any level with the viewer, that makes me happy.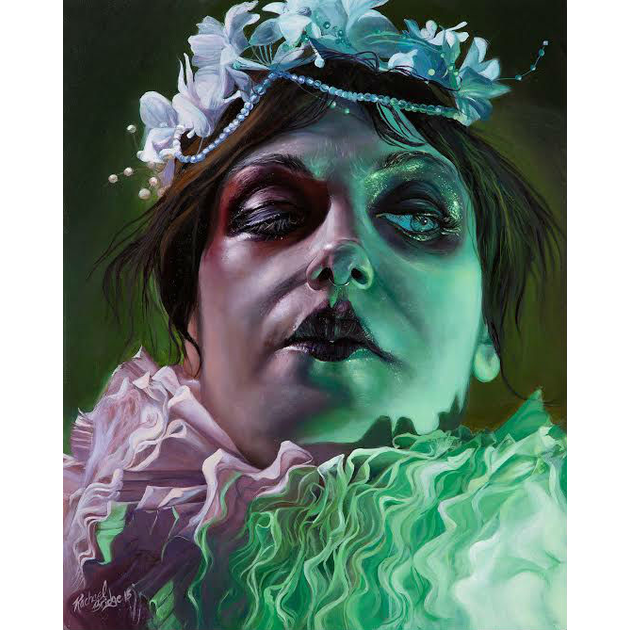 "Queen", Oil on board, 16x20 2015
TT: Which artists do you feel have influenced your art the most?
RB:Caravaggio, Goya, John Singer Sargent, James Whistler, William Bouguereau are a few. Some more contemporary artists that really inspire me are Henrik Uldalen, Jenny Saville, Mark Ryden, David Stoupakis, Michael Hussar, Martin Wittfooth, Alex Kanevsky, Jeremy Hush, Nicola Samori, Stephen Assael, and Aron Wiesenfeld to name a few.
TT: Out of all of your creations (or bodies of work) which one did/do you find the most cathartic in creating?
RB:Probably my painting "In Waiting". I went back and forth to it for about 6-7 months, stressing over it, and repainting it until finally getting the image that was in the back of my head the whole time. For the photo references I wanted, I lugged a pile of dirt, leaves and flowers from outside and set them all up on the floor in a spare room in my Brooklyn apartment.
"In Waiting" Oil on panel, 24x18, 2013
TT: How has your work (or technique) changed over time?
RB:Over the past 10 years I've gone from working really loose and gestural to progressively more and more tightly rendered and conceptual. Using dramatic, multiple colored light sources has become a big part in the photo reference process too. This helps me capture the mood I'm looking for.
TT: How do you promote yourself and your art?
RB: Galleries, Facebook, and Instagram. Galleries such as Arch Enemy Arts (Philadelphia) and Gristle Art Gallery (Brooklyn) have been wonderful and have shown tremendous support for my work in the last couple years.
"The Void", Oil on Panel
TT: What project are you working on currently? What are you most looking forward to with your work this year?
RB:I have about five or six pieces in my studio are for upcoming shows alongside all the ideas that I'm constantly sketching out for other future projects. I'm extremely unorganized. I'm looking forward to all the new galleries I'll be showing at this upcoming year including La Bodega Gallery in San Diego, Haven Gallery in New York, and Sally Centrigrade Gallery in Colorado.
TT: What is your favorite medium to work with, or what medium brings you the most satisfaction to use? Are there any mediums that you don't currently use that you'd like to explore?
RB: I love working with oils on wood, which is primarily what I always use. I also need to make more drawings. I like using either graphite or charcoal on bristol paper. I would love to play with ink and water soluble oil paints at some point.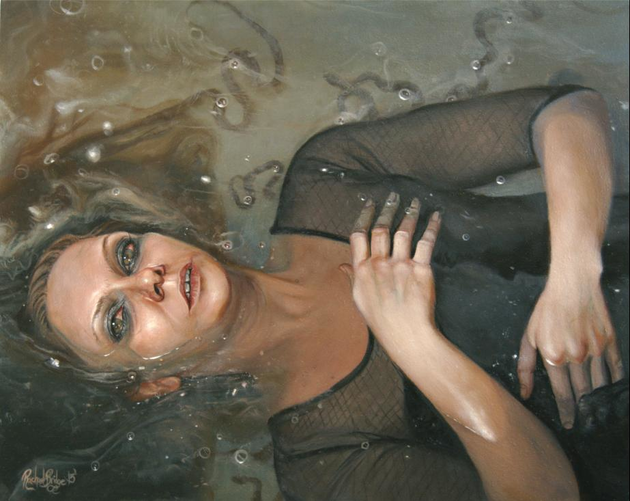 "A Final End" 16x20, oil on panel, 2015
TT: What was your first work of art that you were proud of? Where is it now?
RB: I drew a raccoon hiding in a tree when I was in 2nd grade. At the time, it was really rendered for me. It's probably in a box in my parents' house somewhere now.
TT: Do you take commissions? Why or why not?
RB: I'm willing to but it all depends on the subject. I would definitely prefer the commission to be in my present style. Someone asked me to paint their dogs drinking tea with Benjamin Franklin in the middle of a zombie apocalypse. I said no to that commission request.
"Cyber Love" 12x16, Oil on panel, 2015
TT: What do you do when you aren't working on artwork? What are some of your hobbies/passions other than art-making?
RB: I love cuddling with my cat and dog, watching horror movies, and traveling.
TT: Check out Rachael's profile on thalo to read more!
TT: More of Rachael Bridge's work can seen by clicking on the links below:
http://www.rachaelbridgeart.com
http://rachaelbridge.bigcartel.com/
https://www.instagram.com/rachaelbridge/

https://www.facebook.com/RachaelBridgePaintings/
https://www.facebook.com/rachael.bridge.96