SPOTLIGHT ARTIST Ashly Lovett
Thalo loves to promote artists and each month, we spotlight a member of our community!
This month we are pleased to have Ashly Lovett as the thalo Spotlight Artist.
THALO TEAM: Can you give an "elevator pitch" of your work?
ASHLY LOVETT: I am a freelance illustrator and fine artist working primarily with chalk pastel on paper. My work is of the horror and fantasy genre, often with a dark romanticism undertone and Pre-Raphaelite influence. I received my BA in illustration from Ringling College of Art and Design.
TT: Which artists do you feel have influenced your art the most?
AL: When I first started out in art school, I can easily say the master painter John Singer Sargent was a big influence in my design and brushwork. As well as, Jenny Saville. Some of my favorite illustrators include Sam Wolfe Connelly, Rovina Cai, Sam Webber, and others.
"Claire", 8x10, chalk pastel on paper
TT: Out of all of your creations (or bodies of work) which one did/do you find the most cathartic in creating?
AL: My 2015 piece "Claire" was very relaxing and was created just for fun. It transformed from a lot of different stages. I'm happily amazed by its success. The original has sold to a fellow illustrator whose work I've admired for years, Cory Godbey. And it was published this year in Spectrum 23 Fantasy Art Annual.
TT: How has your work (or technique) changed over time?
AL: I explored a lot of different media for years and it took me a long time to settle with chalk pastels. For whatever reason, I have an easier time exploring ideas and creating unique pieces with chalk pastels. I often wipe away my drawings several times and use the history left behind to refine my idea. That ease is why I love working with chalk pastels.
"Reflection", 9" x12", chalk pastel on paper with water
TT: How do you promote yourself and your art?
AL: Social media is my biggest promotional tool. I stay active in posting and interacting with my followers a few times a week. I enjoy sharing my process with time-lapse videos and images on my blog and Patreon, and I've been getting into the gallery world and participating in group shows.
TT: What project are you working on currently? What are you most looking forward to with your work this year?
AL: I'm currently researching for a Kickstarter centered around the personal series I was talking about earlier. I've also been adding a lot of content to my Patreon page, which is a place where people can support my work by being a patron. Next year I'm looking forward to exhibiting at conventions and more galleries. All my events are listed on my website under the 'About' page.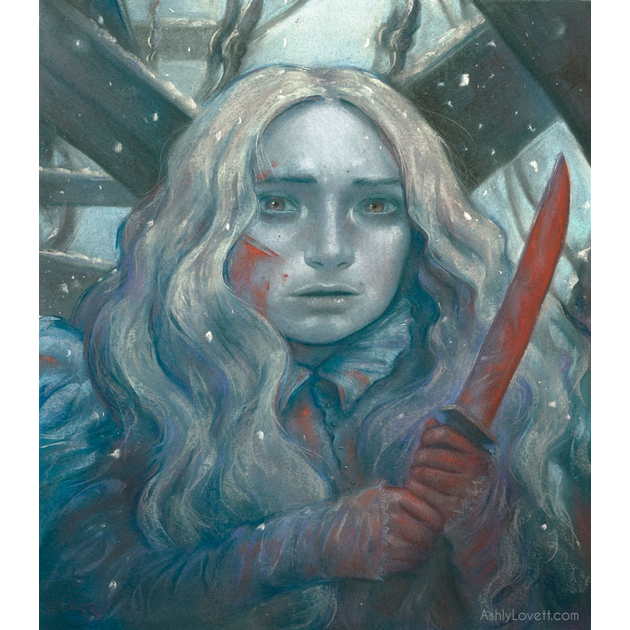 "Crimson Peak", 13"x15", chalk pastel on paper

TT: What would you consider to be your "biggest achievement" with your work thus far?
AL: In early 2016 I sold a piece to Hollywood director Guillermo del Toro. I created a fan art piece for his movie "Crimson Peak." I posted it via Twitter and he shared it and followed up asking for the original. One of my happiest moments.
TT: What was your first work of art that you were proud of? Where is it now?
AL: When I was a junior in college I had a portrait piece accepted into the NY Society of Illustrator's Student Competition. It exhibited in NY. That piece is currently hanging in my bedroom.
"Flame", 12"x16", chalk pastel
TT: Do you take commissions? Why or why not?
AL: I do take commissions. I do work for collectors and I do commercial work as an illustrator. You can email me at ALovett@AshlyLovett.com.
TT: What do you do when you aren't working on artwork? What are some of your hobbies/passions other than art-making?
AL: If I'm being honest, when I'm taking a day off I love to play video games. I try not to buy new games often or I will be distracted for days. Right now I've been playing an indie game called Prison Architect. I'm into building games or RPG. My other passion is cooking. And when the weather permits I do enjoy going fishing with my husband and planning trips to visit family and friends.
"Drift", 12"x16", chalk pastel
TT: Is there something that you would like to share with us that we have not covered, that pertains to you and your work?
AL: I've recently added an Artist Resource page to my website. It is a collection of sources for emerging artists. Basically all my research on self-promotion, contacting art directors, contracts, invoicing, social media, etc. I'll be adding new information gradually as I collect it. I highly suggest any freelance artist to give it a look. Go to AshlyLovett.com > About > Artist Resource.
TT: Check out Ashly Lovett's profile on thalo to read more!

TT: More of Ashly's work can be seen at:
Website: http://Ashlylovett.com
Become a patron on her Patreon site
Check out Ashly's Facebook Page
Check her out at twitter @ashlylovett
Ashley's Instagram @ashlylovett
Click here for the spotlight archives!
Sign up today and complete your profile for the possibility of being selected as one of our spotlight artists'