3 Artists You Should be Following on Instagram
Everyone today has an Instagram-from celebrities, to politicians, even your mom-and now professional artists are getting in the game. While some post the average food shot, and occasionally a sneak peak at what they are working on, others are more creative with their use of the new medium, and utilize it as an extension of themselves and their work. Below are the 3 artists you should add to your Instagram feed immediately:
1) Ashley Longshore- @ashleylongshoreart
Interspersed with pictures of her beautiful and iconic pop-art, this New Orleans based artist really lets her personality shine on her Instagram. Everyday she posts hilarious quotes, memes, and images that speak to her "I don't care what you think of me" attitude. Her account provides a fun glimpse into the mind of such a talented artist, and explains why she is so drawn to painting images of alcohol bottles. Just don't let your kids read her captions-she certainly does not mind a few curse words!
2) Daniel Arsham- @DanielArsham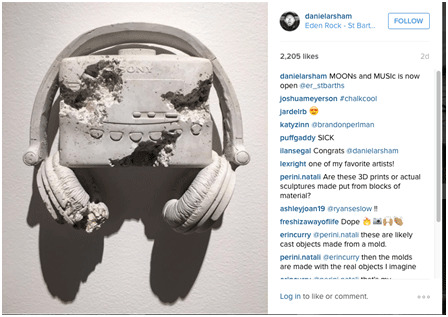 Arsham grants his followers a curated look into his life. Of Snarkitecture fame, those who appreciate his unique style will love having his monochromatic images filling their feed.
3) Damien Hirst- @damienhirst
If you love skulls, bones, and butterflies, this is the Instagram account for you. The darling of the art world, Damien Hirst, flawlessly upholds his image across this social media platform. Plus, he includes a number of "throwback" images of his earlier work, so feel free to drop some of his more obscure pieces into conversation; you don't need to tell anyone you saw it on Instagram.