The Art of Textile Design
Kaitlyn Mar is a 22-year-old artist who graduated from the Rhode Island School of Design (RISD) where she majored in Textile Design. We sat down with Mar to discuss what exactly is this type of art and why she chose to study Textiles. Mar currently lives in New York.
thalo: So let's start with the basics: what is Textile Design?
Kaitlyn Mar: Designing a fabric in terms of its physical construction (structurally), the materials and texture (yarns), and aesthetically (color).
thalo: What made you interested in pursuing Textiles as your focus at RISD?
KM: I was interested in the pervasive nature of textiles within our everyday environment, contextualized in apparel and interiors (upholstery, carpet, drapery, etc).
thalo: What types of careers do those who study Textiles go on to pursue?
KM: Apparel (knitwear designer or print designer), interiors (designing woven fabrics but also prints), or fine artist.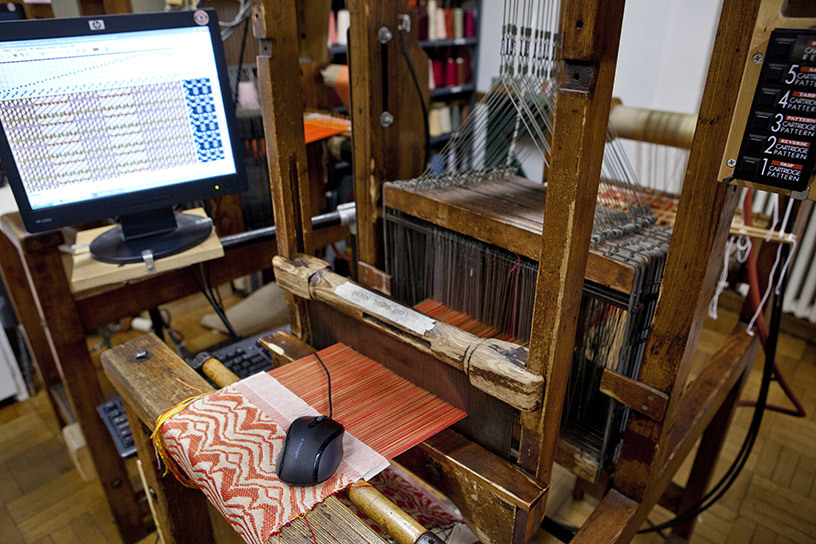 thalo: Any last fun facts about Textiles?
KM: Something interesting about Textiles is the difference in commercial applications. The two major commercial applications for textiles are apparel and interiors: knitwear and wovens, respectively. The difference between the two is structural. Knits are a series of loops, and that's why its application is apparel because the structure of the fabric has give (can stretch out and stretch back into place). You can tell something is a knit (besides the way it looks) because when it rips it unravels or runs (like in tights).
Wovens (used for apparel and interiors) are created with a loom with two autonomous yarns in an interlocking grid structure: The warp and weft. The warp is your given and is under tension/ wound on the loom. The weft is the variable. The most relatable wovens in apparel would be denim and suiting aka fabrics with little give or stretch. Wovens are recognizable because when they are ripped, they fray.
Photos courtesy of Kaitlin Mar