Carol Prusa Contemporary Renaissance Artist
By Dawn Dubriel
If the United States had cathedrals with large domes like those of European antiquity, Carol Prusa would be the one artist to masterfully paint the heavens looking down upon us, as we stand under the cupola.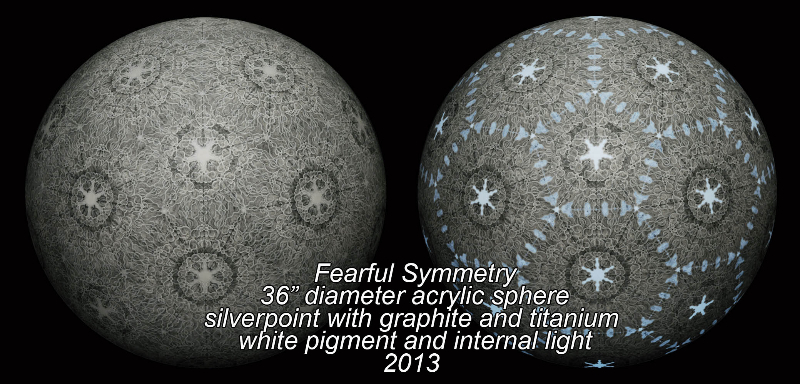 During her Master's degree studies at Drake University, one of her professors showed her a piece of work in a magazine and said "You can be that good." That vote of confidence may have been what propelled her to the next level. Empowering, isn't it? When someone believes in you and you also believe in yourself? Indeed, she has made better than "good". Using a Renaissance technique of silverpoint, she creates contemporary domes, or acrylic spheres, paints them titanium white, then sketches elaborate, subtly spiritual and cosmic designs on the surface with silverpoint and graphite in interwoven patterns, then drills small holes and incorporates fiber optics… maybe even a blinking eye (stored inside, playing on an iPod). The effect is astonishingly brilliant and magical.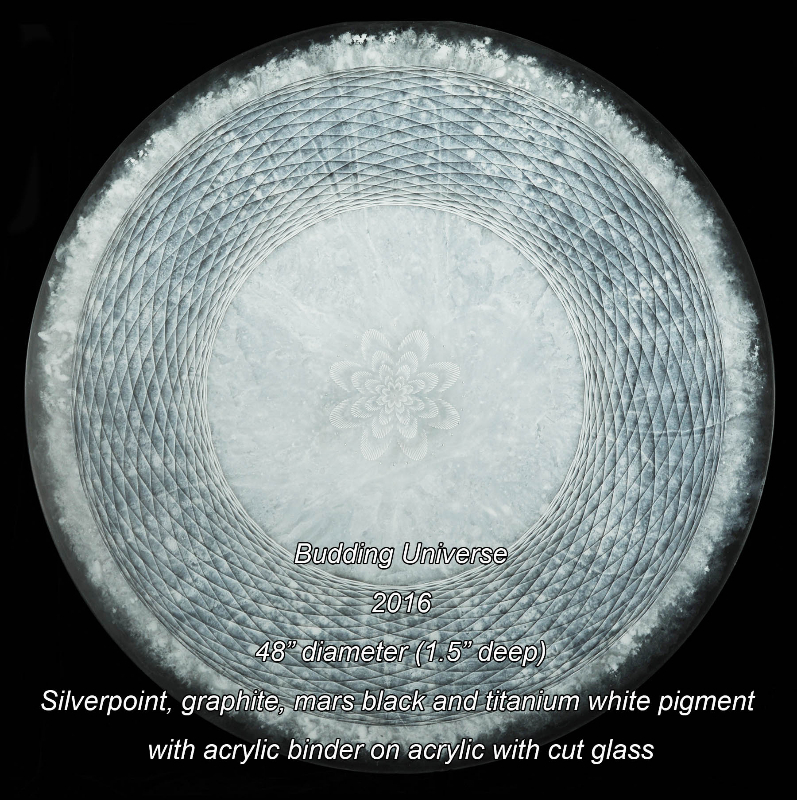 When Carol was asked what her dream is, she replied "I end every lecture I give with an image of my work projected onto a dome of a planetarium and say that my zenith goal is to make that a big dome!"

As luck would have it, Carol Prusa turned out to be my Art teacher during my Summer Study Abroad in Florence Program. The students in her class had the times of their lives drawing Renaissance statues, architecture, master studies of famous paintings, and intricate drapery using Renaissance art techniques. We would take class trips to the world famous Zecchi arts studio to purchase our supplies of notebooks, pencils… I even bought silverpoint and gold leaf, and a set of oils and watercolors for my sister. One project that comes to mind from her class, was a black and white charcoal drawing.
Of course I chose Michelangelo's David as my subject. Carol instructed us to mix sienna (a Tuscan reddish-orange) powder with water and brush it over the paper before drawing over it with a pencil and then finishing it with black and white charcoal to create contour and depth. I will never forget the way she taught me to delight in organic brush strokes on paper. While I was far from one of the top three art students in the class, she knew to look at everyone's work very closely and saw a "special quality" in my line drawings of a statue of an angel with a lion. I overheard her praising a very talented friend saying "Magnificent. You have such style." I know those words helped cement my friend's belief in her own talent.
Carol has been awarded many visual arts fellowships, and recently garnered the Ubertali Award for Outstanding Artist in Palm Beach County. You can see collections of her work on permanent display at the Perez Art Museum in Miami, Museum of Art in Ft. Lauderdale, Hunter Museum of American Art in Chattanooga, Spencer Museum of Art in Kansas, Arkansas Arts Center, Daum Museum of Contemporary Art and Telfair Art Museum in Sedalia, among others.
You can also watch this video to see Carol at work and an intimate conversation. Her website is: www.CarolPrusa.com
All photos courtesy of Carol Prusa.