Art Basel Brings the World's Finest Art to Miami Beach - Part 2
By Dawn Dubriel
MIAMI, FL -- Within the swirling vortex of autos gridlocked in Miami's bumper-to-bumper traffic, Art Basel's descent on Miami Beach is in full swing. The city's satellite events create a further flurry of festivities as they run concurrently with Art Basel all week long. Outside the main venue at the Miami Beach Convention Center parking was a bit easier today, since it was Sunday. Some visitors walked from the parking garage and lots to Area D, and then waited in line to buy their tickets for over two hours. They could have taken the high road via the Skywalk to cut across to the box office at Area A, for a mere five-minute wait.
Finally inside the convention center, it behooves one to breathe deeply, then slow down and absorb the amazing sights while navigating through the rivers of swarming art aficionados. Today, I greatly enjoyed seeing Wim Botha of Stevenson Gallery's approach to busts. One, Untitled, 2015, was created from encyclopedias, wood and stainless steel. The cross section shows gilded edges, perhaps suggesting an enlightened or elevated figure whose identity is intentionally concealed by ambiguous facial features.
Another one of his busts, rather an installation, Still Life with Water, 2015, created out of wood, bronze, oil, paint, glass, and fluorescent lights, requires a long step back to gain a full view of what the artist was trying to convey. This piece is divided into two structures; the first resembles the extended wings of three large birds in flight, perhaps eagles or buzzards. The second part resembles a bust, and while no discernible features are present here either, the shape and angles appear to suggest an abstract bust of Napoleon Bonaparte. This second piece, initially created out of Styrofoam, was then cast in bronze. View the photos and decide for yourself whom it might represent.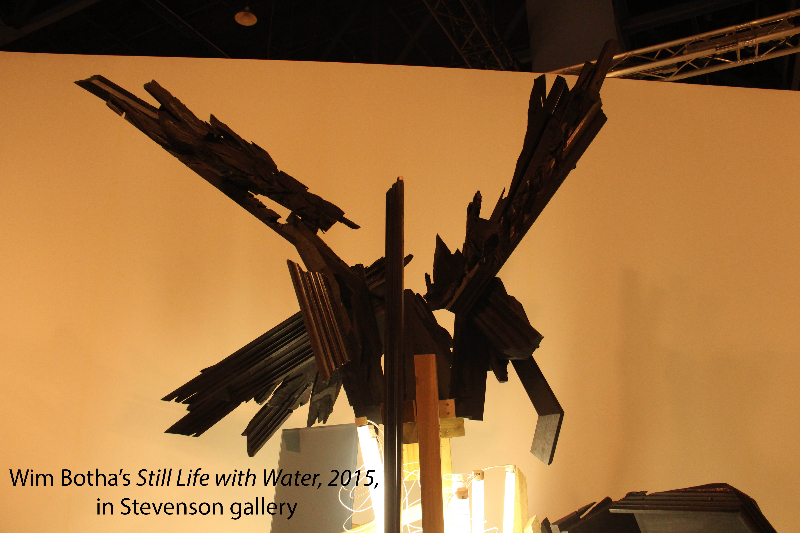 The James Cohan gallery also featured interesting works, particularly Fred Tomaselli's Double Landscape, 1995, and Philip Handson's O Rose Thou Art Sick (Blake), 2015. Personally, I love the writings of William Blake, and am captivated by all paintings inspired by poetry. Here the inspiration was William Blake's poem, The Sick Rose. Moving on, I found the warm and fuzzy surface of Yinka Shonibare's Wind Sculpture III Maquette, 2015 so welcoming, but upon closer inspection, the surface revealed itself to consist of a chilling and meticulous assemblage of large blades. Over in the Galeria Continua, I enjoyed the chance to practice my Italian with two visiting Florentine ladies, Cecilia and Maddalena, and then moved on to admire the works of Carlos Garaicoa's Aniversario / Anniversary, 2015, an installation of stamps and magnifying glasses featuring iconic world leaders, many of them posing with crying children.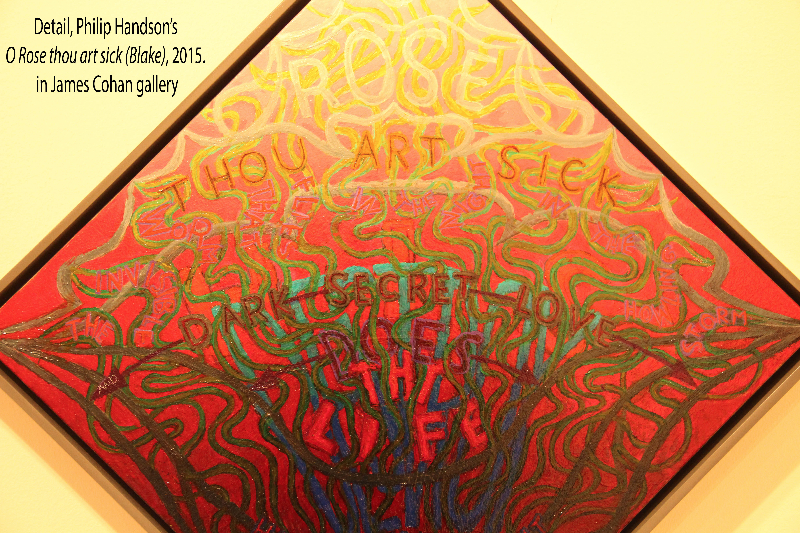 Even though Art Basel Miami Beach is finished for the year 2015, Miami continues to host many amazing artists and events on an ongoing basis, so stay tuned for more intimate looks at what there is to see throughout the upcoming year.
To read more about Art Basel Miami, click here.