Jascha Heifetz Auction of Personal Items Celebrates 100th Anniversary of Migration to US
Bidding Now through April 6.

MELBOURNE 3 April, 2017- Online bidding is now open through April 6 for the Jascha Heifetz and Family Collection at Mossgreen Australia at http://www.mossgreen.com.au/m/view-auctions/catalog/id/320/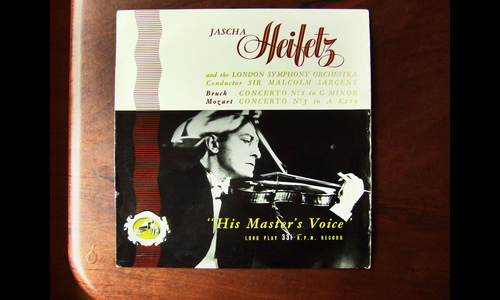 The sale, in celebration of the 100th anniversary of Heifetz' emigration from Russia to the United States and of his debut American concert at Carnegie Hall, includes one-of-a-kind works of art, documents, photographs, decorative arts, clothing, music, books, memorabilia, plans for a Malibu beach house, and Heifetz' Steinway piano.
Artists and makers represented in the sale include Fabergé, Picasso, de Kooning, Thiebaud, Lloyd Wright, Tiffany, Stella, Hermes, Burberry, Gaultier, and more. Rare glassware from Russia's Imperial Glass Factory that was a gift to the Heifetz family from the Czar is also available.
Unique documents include Heifetz' original Naturalization Certificate (making him an American citizen), the Wedding Certificate for his second marriage, his last US Passport, and original Karsh and Mili photographs, French Legion of Honor Medallions, and a Grammy Lifetime Achievement Award.
Featured clothing includes the set of 'tails' custom made in 1951 that were Heifetz' favorite for his career's last years of public performances, and a silk monogramed bathrobe and scarf from renowned American maker, Sulka.


According to Heifetz' son Jay, "We've been entrusted with these items since my father's death thirty years ago, and it's now time for them to be shared with the broader group of fellow musicians and fans who will carry his legacy forward. These things that were important to him can now inspire others who aspire to enjoy his excellent taste and artistic perfection."
Heifetz is widely considered to be one of the most profoundly influential performing artists of all time. Born in Vilnius, Lithuania — then occupied by Russia — on February 2, 1901, he became a U.S. citizen in 1925. Fiercely patriotic to his adopted country, he gave hundreds of concerts for Allied service men and women during World War II, including tours of Central and South America, North Africa, Italy, France, and Germany, often playing from the back of a flatbed truck in dangerous conditions.

In 1928, he published the first of dozens of acclaimed violin transcriptions. Many, including his arrangements of selections from Gershwin's "Porgy and Bess," are now part of the standard repertoire. Using the pseudonym Jim Hoyl, he even wrote a pop song that became a hit in 1946.


In his later years, Heifetz became a dedicated teacher in Southern California at both UCLA and USC, and a champion of causes he believed in. He led efforts to establish "911" as a national emergency phone number, and crusaded for the environment by buying and converting a Renault sedan into an all-electric vehicle that he drove to and from classes.

As a result of his vast recorded legacy, most of which was recently released by Sony Classics in a 103-CD collection that holds the Guinness Book of Records title for the largest musical set ever issued by a classical artist, Heifetz's violin playing is no less influential today than it was in his lifetime. To legions of musicians and other violinists, he remains, quite simply, "The King."

Mossgreen is a world-leading auction house headquartered in Melbourne with galleries in Sydney and Auckland.

For further information, contact:
Claire Mazzone
claire.mazzone@mossgreen.com.au
+61 (0) 3 9508 8888
Jay Heifetz
jayheifetz@mac.com
+61 (0)405 922 252